Brokers pursue mortgage break for first-time homebuyers – The Globe and Mail
The federal government implemented new mortgage rules in July of last year which have undoubtedly been a major source of the current cooling in the housing market. Sales have declined since the rules were implemented in July, however prices have not. The rule changes have made it particularly hard for first-time homebuyers to enter the market; mortgage brokers have recognized this and are reaching out to the federal government for a revision in the rules. Brokers are asking that the government increase tax incentives for first-time buyers, as well as to insure 30-year amortized mortgages again, giving buyers the option to have smaller monthly payments. Phil Soper, the chief executive of Royal LePage, agrees that the rule changes went too far, but suggests the best thing to do is to wait until interest rates increase before offering incentives to first-time buyers.
Flaherty thanks banks for holding mortgage rates steady after BMO cut – The Globe and Mail
Canadian Finance Minister Jim Flaherty released a rare statement earlier this month. In it, he praised Canada's big banks for not matching BMO's new 5-year fixed mortgage rate of 2.99 percent. Flaherty and the federal government are often reluctant to get involved with the decisions that individual banks make. However, Flaherty does not want to see the market overheat, after implementing multiple recent lending rule changes in an attempt to cool it.
Toronto real estate market hits more turbulence in February – The Wall Street Journal
Toronto's housing market experienced another rough month, this February, as sales of homes decreased significantly and prices continued to inch up. Compared to last February, the average home price in Toronto edged up 2 per cent to $510,580, and sales in Toronto decreased 10.5 percent. The condo market and luxury home market have continued to experience the worst of the market downturn, suffering from an overall sales decrease of 20.2 percent and 15.5 percent respectively. The Toronto Real Estate Board's senior manager of market analysis, Jason Mercer, believes 2013 will continue to see volatile price growth, forecasting a year end average home price of $515,000.
Moody's analysis contemplates 44% drop in Canadian housing prices – Financial Post
Moody's recently analyzed the effects that a possible economic shock could have on the Canadian housing market. The market, Moody's says, would have to see prices fall 44 percent before securities linked to the mortgage market in Canada would lose their high ratings. Moody's most recent analysis draws concern to the fact that the growth in Canadian housing prices over the past 10 years has far exceeded the growth in income. However, Moody's also took into account the overall stability of the country, noting that while Canada's household debt-to-income is very high, the savings rates are also relatively high.
CANADIAN MORTGAGE RATES
Where are they this week?
A history of weekly 5-year fixed mortgage rates and 5-year variable mortgage rates.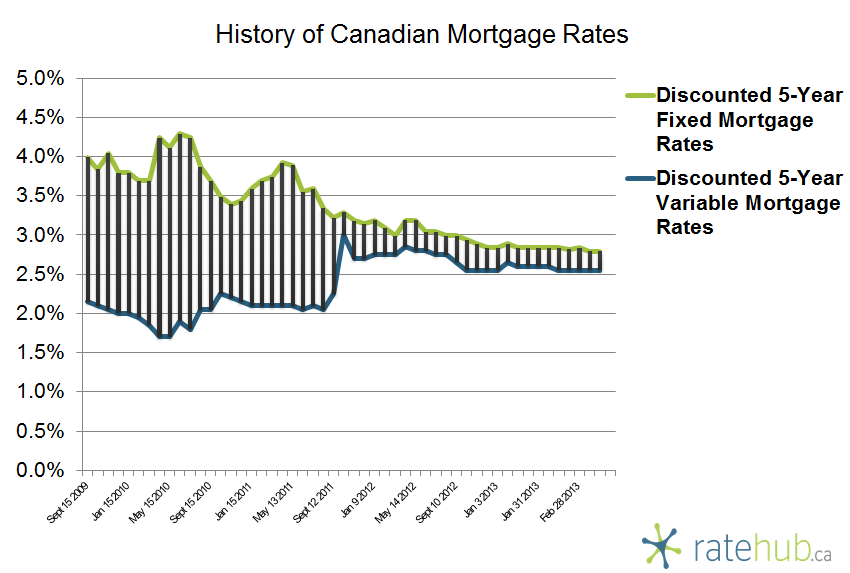 Canadian Mortgage Rates Since 2012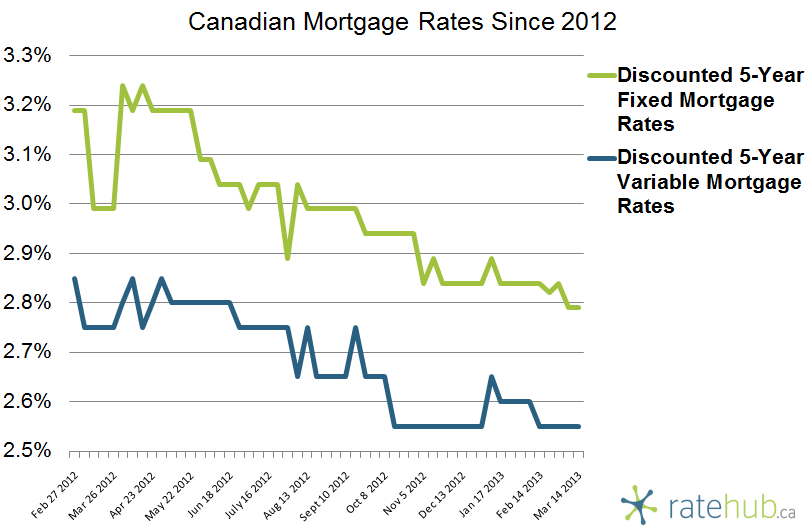 The average discounted mortgage rates in Canada in 2013: