Canadian Real Estate Investors Fret as Housing Blitz Winds Down – Financial Post
Canadian real estate investors are beginning to worry about how many new, often larger than life condo developments are being proposed and going up across the country. Home sales are down for many of the existing projects, as the idea of purchasing a glamorous home is not something most Canadians or new immigrants can actually afford. Investors are also worried that the country's housing expansion projects will stall before Canada can revive its exports.
"If [Toronto] is any indication of what's going on in the country, it's over-reliant on its housing sector," long-time real estate investor Herbert Crockett said. "I'm afraid of a condo crash, and then what will happen to all the investments?" Unfortunately, the project proposals for big developments in Toronto just keep on coming. With more than 140 skyscrapers under construction in late February, Toronto is building upwards faster than any other city in the world.
Homeowners Poised to Cash In on Decade-long Housing Boom – Toronto Star
According to a new report released by ReMax, homeowners are expected to cash out of their existing mortgages and move up to something bigger (and more expensive) this year. In 2012, "move-up houses" in the $500,000-700,000 range accounted for close to 20 per cent of home sales in Toronto. Up 8 per cent from the year before, the number of move-ups is expected to increase yet again this year, especially if mortgage rates stay low.
The question now is: Why are homeowners moving up? While the simple answer could be to get bigger homes for their families, Mark Carney worries many homeowners are cashing out, buying something new, and using whatever is leftover as a way to support their lifestyle choices or meet their financial needs. As the report points out, homeowners whose homes have doubled and tripled in value are the first to "move up" – and you might be surprised to find out which cities this has happened in, over the last ten years.
Real Estate in Canada: Where the Money Is and Isn't – The Loop
If you're thinking of buying a home in another province anytime soon, you might want to checkout this week's map on The Loop. Pieced together from data provided by Stats Canada, the map showcases the profit margins Canadian realtors reached in 2011. While it offers some interesting insights into what realtors may be charging in each province, don't let the colours deter you from one province or another – remember that profits will potentially be lower in suburbs, small cities and towns, depressed markets, etc. Still, an interesting map to look at, nonetheless!
CANADIAN MORTGAGE RATES
Where are they this week?
A history of weekly 5-year fixed mortgage rates and 5-year variable mortgage rates.
Canadian Mortgage Rates Since 2012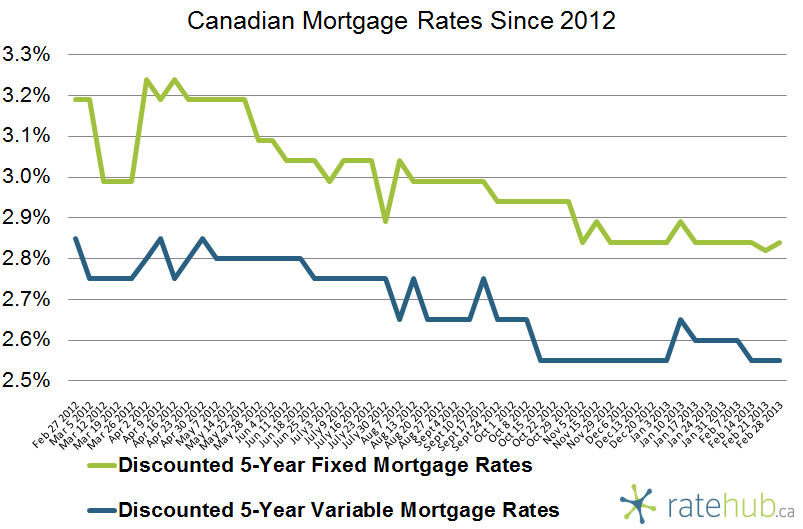 The average discounted mortgage rates in Canada in 2013: