Why the housing market won't crash in 2013 – The Globe and Mail
If you're worried about a few slowing markets being the first sign of a housing market crash, stop. That's the message Larry MacDonald left in this week's post on why he doesn't think the housing market will crash in Canada this year. His first reason for believing this is because of Canada's highly supportive monetary policies. For Canadians, this means the country should generate growth in jobs and income, which typically supports the housing market. And if people continue to buy homes, prices shouldn't fall by much in 2013.
Now, what happens if interest rates rise this year? As long as income and employment are rising as well, this should create an offset demand for housing. MacDonald finished his prediction by saying last year's tightening of mortgage rules are also not expected to be a serious concern for the housing market.
Home values to drop significantly in some parts of B.C. – Vancouver Sun
For the first time in years, homeowners in a number of areas of British Columbia are expected to see a drop in their annual property assessments. Perhaps not surprisingly, the most significant decreases are expected to be seen in Whistler and the Sunshine Coast, as well as Pemberton and Bowen Island.
Last year, homeowners in Vancouver, West Vancouver, Richmond and Burnaby saw assessments rise as much as 30 per cent. But in areas that rely on recreational buyers, the strong Canadian dollar, plus concerns about the U.S. and global economy, are seriously affecting the housing market. What homeowners in these areas need to be most aware of is that a drop in property value does not necessarily translate into a drop in property taxes. Assessments will be arriving in homeowner's mailboxes in the next few days and can be appealed up until January 31st of this year.
Five mortgage market predictions for 2013 – The Globe and Mail
Earlier this week, Robert McLister wrote a special for the Globe and Mail, in which he listed five of his predictions for the mortgage market in the upcoming year. We think all five are worth noting but have a particular interest in #1!
CANADIAN MORTGAGE RATES
Where are they this week?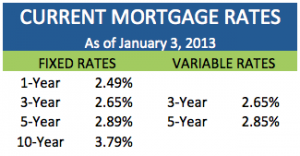 A history of weekly 5-year fixed mortgage rates and 5-year variable mortgage rates:
Canadian Mortgage Rates from 2012-2013:
The average discounted mortgage rates in Canada for 2013: