Are stubborn sellers killing the real estate crash? – Financial Post
It seems to be the new trend for first-time buyers: saving more while waiting for home prices to drop. And while Flaherty's new rule that decreased the maximum amortization to 25 years is one reason buyers need to save more, waiting for prices to drop is a result of predictions that have been circulating for months. "I'm waiting for that bubble to pop that everybody is talking about," explained Megan Vickell, a first-time buyer in Toronto.
Unfortunately, it doesn't look like that will be happening anytime soon. "Crashes don't just happen…you need a trigger," says Benjamin Tal, deputy chief economist with CIBC World Markets. A spike in interest rates or major job losses could be that trigger but, so far this year, the economy looks stable. And with home prices expected to drop by 5-10 per cent this year, many sellers are pulling their homes off the market, refusing to sell at a lower price.
Finance Minister Flaherty 'pleased' as Canada's housing market softens – The Globe and Mail
On Tuesday, the Canadian Real Estate Association revealed new data to prove that the rapid increase in home prices is now over. Canada's housing market is beginning to soften and Finance Minister Jim Flaherty says he is happy with the news. "I don't mind prices coming down a bit, too," he added, after the data showed that home sales fell sharply in December.
Sparked by his concern that low interest rates were encouraging consumers to take on large amounts of debt, as well as bid too much on already hot real estate, Flaherty changed the rules to make it more difficult for consumers to qualify for new mortgages. While prices nationally are still slowly rising, there has been a major decline in sales. According to the same data, 20,538 homes sold over MLS in December, down 17.4 per cent from the year before. In total, 1.1 per cent fewer homes were sold in 2012 than in 2011.
ING DIRECT's Broker Business Announcement – Ratehub.ca
In an email sent out Wednesday morning, ING DIRECT Canada announced to mortgage brokers and agents that the financial institution would be discontinuing its broker channel and transitioning the business over to Scotiabank. This decision is a direct result of Scotiabank's acquisition of ING DIRECT in August 2012.
Predictions of Scotiabank taking over ING's broker channel have circulated for months. In Q3 2012, Scotiabank had 23.6% of the broker lender market share – the highest percentage of any financial institution – while ING had only 4.6%. Because of this, ING is confident that the result of Scotiabank taking over its broken business will be successful.
CANADIAN MORTGAGE RATES
Where are they this week?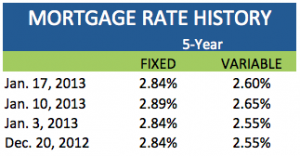 A history of weekly 5-year fixed mortgage rates and 5-year variable mortgage rates.
Canadian Mortgage Rates Since 2012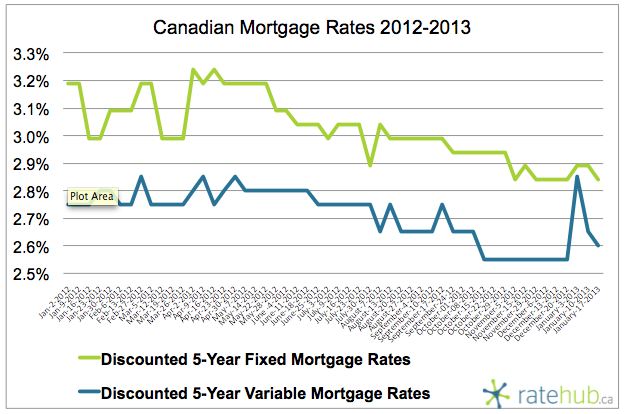 The average discounted mortgage rates in Canada in 2013: