House sales drop 22.7% from 2012 – The Province
There won't be a housing crash – just a soft landing – and a minor correction in prices: this is what homeowners and potential buyers have been told repeatedly, over the last month or two. While that might sound like good news, no one can ignore the fact that sales are falling fast in the Canadian housing market. The Real Estate Board of Greater Vancouver has reported that sales in January 2012 were down 22.7 per cent from the year before. And while Toronto only saw a decrease of 3.8 per cent in the same month, compared to 2011, sales decreased fast throughout 2012.
While the average price of a home actually went up in Toronto, Vancouver's has dropped by 5.8 per cent since May of 2012. David Madani, an economist with Capital Economics, predicts home prices will drop by as much as 25 per cent on average in Canada. That number would mean a lot more than a soft landing, especially for homeowners with outstanding mortgages who are looking to sell. One anonymous industry insider says Canadians shouldn't worry about such a steep decrease in prices, stating that a drop in sales is nothing more than a standoff between buyers and sellers.
Canada's housing market cooling, but homes $1M and above still hot – Financial Post
While the rest of the Canadian housing market seems to be cooling, the same cannot be said for homes listed above $1-million. Southeby International Realty Canada says 2013 looks like a good year for sellers of top-end homes; the realtor is so confident in this statement, it is expanding to Edmonton and Quebec City.
In Calgary, 2012 saw a 20 per cent increase in sales of homes listed over $1-million, for a total of 535 – 5 per cent of which were sold above the asking price. In Toronto, top-end home sales rose by 13 per cent, for a total of 4,900 – 11% of those were also sold above the asking price. In Vancouver, however, sales of homes listed over $1-million fell by 24 per cent to 1,983. While 5 per cent were still sold for more than the asking price, it took an average of 54 days to sell each of the top-end homes in Vancouver.
Don't hold your breath on a privatized CMHC – The Globe and Mail
Back in October, Finance Minister Jim Flaherty mulled over the idea of getting the federal government out of the mortgage insurance industry within the next five to 10 years. As it stands, the Canada Mortgage and Housing Corporation (CMHC) dominates the mortgage industry, because all business is backed by a 100 per cent guarantee from Ottawa – this means that any losses on insured mortgages that CMHC does not cover become the federal government's problem. As the housing market is beginning to see prices drop, privatizing CMHC sounds appealing. But with the housing market in flux, Flaherty is right in that the process could take a least a decade to complete.
CANADIAN MORTGAGE RATES
Where are they this week?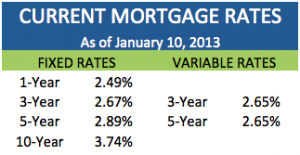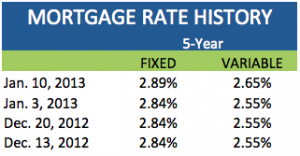 A history of weekly 5-year fixed mortgage rates and 5-year variable mortgage rates.
Canadian Mortgage Rates Since 2012
The average discounted mortgage rates in Canada in 2013: