Notable News of the Week: February 22, 2013
Canada's home sales rise in January, easing correction fears – Financial Post
After sales fell sharply in 2012, causing the media to announce that Canada's apparent housing bubble was getting ready to crash, the beginning of 2013 brings with it a new story. Sales were up 1.3% in January 2013 from December 2012, suggesting that the housing market may not see a full-blown correction. And if we look at the timing of when Finance Minister Jim Flaherty put the new mortgage rules in place in July 2012, and compare it to today, it's not hard to see why.
Sales fell month-after-month in the later half of 2012, suggesting that the new mortgage rules took a large number of first-time buyers out of the market. By lowering the maximum amortization from 30 years down to 25, buyers either needed to buy less or save more – and it looks like it only took them a few months to do one or both. "We've seen adjustment in the housing market, we think there's a bit more to come in the next few years. Again, I think Canadians have listened to the message and they are adjusting," Bank of Canada Governor Mark Carney told CTV in an interview aired last Friday.
Ford follows through on promise to lower the land transfer tax – New in Homes
Last week, Toronto's Mayor Rob Ford announced his plan to decrease the city's municipal land transfer tax. "We're going to get rid of 10% of it coming up in the next few months. We're going to put something on the table so we can start knocking it off bit by bit," he said. As much as this might please Toronto homebuyers, who not only have to pay an Ontario land transfer tax but the municipal land transfer tax as well, the announcement puts Ford into yet another conflict – this time with the city's financial managers.
The tax, which has yielded $1.26 billion since it was implemented in February 2008, helps Toronto balance its budget, so reducing it could be detrimental. As City Manager Joe Pennachetti points out, "Any direction from mayor or council to reduce the land transfer tax by 10 per cent would be a challenge if council wants to keep property tax increases at 2 per cent and maintain city services." In spite of this, Ford says the Toronto land transfer tax is a "double tax" and is unfair because Toronto is "the only municipality [in Canada] who has this tax."
Metro Vancouver can be affordable – Vancouver Sun
In an op piece written for the Vancouver Sun, Michael Ferreira claims that a combination of builder incentives and low mortgage rates have made it so newly-built homes are still affordable options for people trying to get into the market. As the Managing Principal at Urban Analytics Inc., a research and advisory firm in Vancouver, Ferreira has spent more than 20 years studying data and trends in Vancouver's new housing market. Despite the recent news that Vancouver is the second least affordable housing market in the world, Ferreria walks readers through an affordability index that helps buyers consider the home price variances in different parts of the Lower Mainland, then puts example prices into a mortgage payment calculator with today's best mortgage rates.
CANADIAN MORTGAGE RATES
Where are they this week?
A history of weekly 5-year fixed mortgage rates and 5-year variable mortgage rates.
Canadian Mortgage Rates Since 2012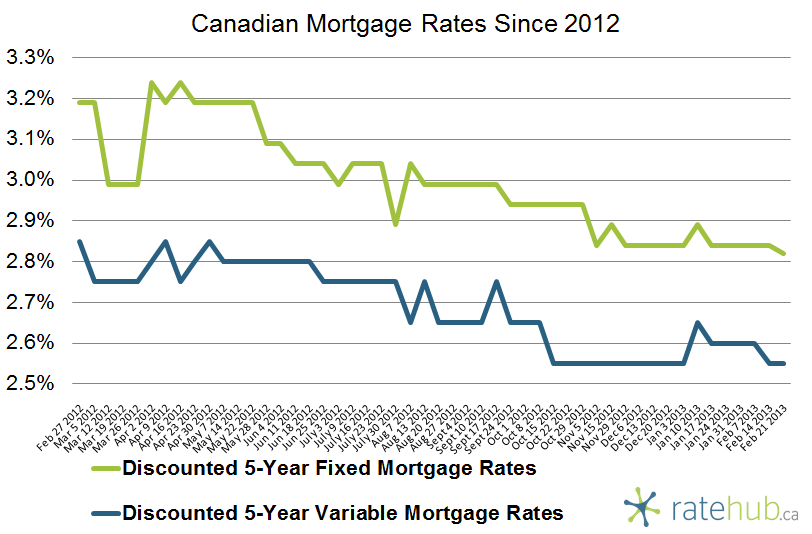 The average discounted mortgage rates in Canada in 2013: