New condo construction in Toronto breaks records in 2012 – BuzzBuzzHome
According to data released Thursday by Urbanation, one of the leading research companies in the condo industry, Toronto developers broke a number of records in 2012. The city saw a record number of construction starts (24,388 in 104 new developments), which brought the total number of units under construction up to 56,866 in 355 active developments. And while some reports lead people to believe that a large number of units were left unsold, the data proves otherwise.
"Despite concerns over the level of unsold supply in the new condominium market, the ratio of sold to unsold units has consistently been above the long-run average in recent years" said Ben Myers, Executive Vice President of Urbanation. In 2012, 17,997 new condominiums were sold in the Greater Toronto Area, leaving only 613 completed and unsold units up for grabs at the end of Q4. Urbanation has forecasted 17,000 new condominium will sell in the GTA in 2013.
Moody's downgrades Canadian banks over consumer debt exposure – Financial Post
In response to the ongoing concerns that Canadian banks were exposing the world's leading debt rating agency to the increasingly indebted Canadian consumer and elevated housing prices, Moody's downgraded five of Canada's big banks this week.TD Bank, Scotiabank, Bank of Montreal, CIBC, National Bank and Desjardins were all dealt single-notch downgrades. "Following today's actions, the Canadian banks still rank amongst the highest rated banks in our global rating universe," said David Beattie, Senior Credit Analyst at Moody's.
Pay your mortgage and save too? Use the Total Debt Service + Savings Ratio to build your wealth – The Globe and Mail
A few weeks ago, we introduced you to the calculations lenders use to find out how much you can afford to borrow for a mortgage on a property. But what the gross and total debt service ratios are missing is the part where you calculate how much you can also save while paying off your mortgage. In a new calculation called the Total Debt Service + Savings (TDSS) Ratio, you can now balance your debts and calculate both savings and spending. As personal finance columnist Rob Carrick says, "If you can keep your TDSS in the right zone [40 per cent], you can do it all."
CANADIAN MORTGAGE RATES
Where are they this week?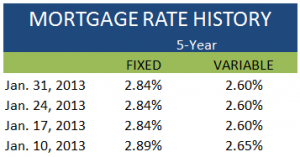 A history of weekly 5-year fixed mortgage rates and 5-year variable mortgage rates.
Canadian Mortgage Rates Since 2012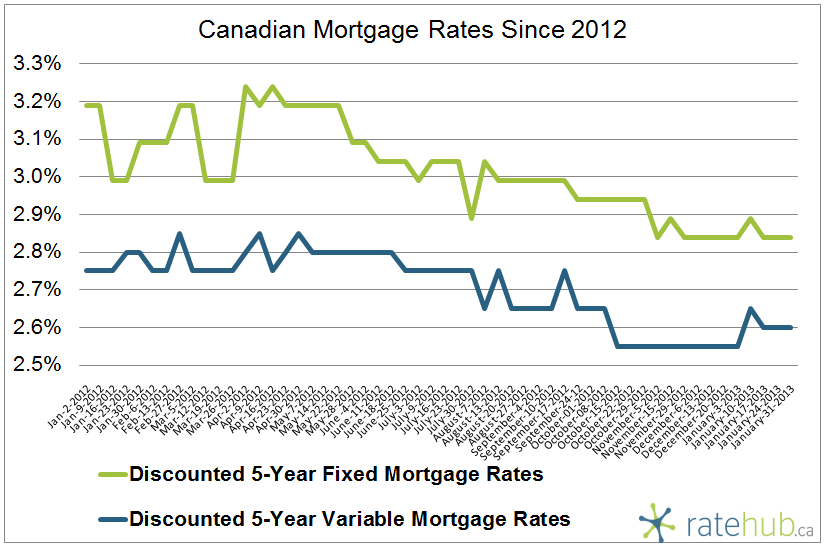 The average discounted mortgage rates in Canada in 2013: