Notable News of the Week: December 7, 2012
Bank of Canada leaves the overnight lending rate unchanged – Bank of Canada
For the 27th consecutive month in a row, the Bank of Canada (BoC) has kept the overnight lending rate at 1.00 per cent. On Tuesday morning, Mark Carney announced that the Canadian economy's slow growth in the third-quarter left the BoC unwilling to increase the overnight rate. Carney's announcement did not come as a surprise and was, in fact, good news to variable rate mortgage holders whose rates are attached to prime.
The BoC considers a number things when determining policy and rate changes, including: levels of household debt, foreign and domestic economic performance, and the national inflation rate. The gross domestic product (GDP) grew by only 0.6 per cent in the third quarter, which was well below the 1.00 per cent the central bank was hoping for. Economists say an interest rate hike is less likely, when the economy shows moderate growth, and that we should not expect an increase anytime soon.
Flaherty admits the new mortgage rules have cooled the housing market – Financial Post
"The housing market has softened somewhat in part because of steps that I've taken and I'm happy about that." That's the message Canada's finance minister, Jim Flaherty, put forth on Wednesday. In reaction to his limiting the maximum amortization period from 30 years down to 25, on new high-ratio mortgages, the housing market has experienced a loss of momentum, since July 9th of this year.
After more than two years of Flaherty and Bank of Canada governor Mark Carney warning Canadians about taking on too much debt, they were left with two options. When it was determined that an interest rate hike would not slow down the housing market, without impacting the economy as a whole, Flaherty put his new policy in place. While the new maximum amortization period has taken 9 per cent of buyers out of the market, and lowered both demand and prices, Flaherty insists that Canada is on track for modest growth in the next fiscal year.  Until then, he's "all for a soft landing."
CANADIAN MORTGAGE RATES
Where are they this week?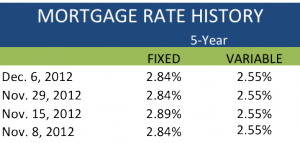 A history of weekly 5-year fixed mortgage rates and 5-year variable mortgage rates.
Canadian Mortgage Rates in 2012
The average discounted mortgage rate in Canada for 2012:
Would you like to licence Ratehub.ca data? Contact us!