CMHC Releases Tenth Annual Review of the State of Housing in Canada – CMHC
CMHC has released its tenth annual Canadian Housing Observer report, which gives a broad range of statistical information on the state of the Canadian housing market. The report is available both online and in print and, new for 2012, readers can now access interactive data tables that provide local reports on various housing indicators for over 160 municipalities.
Some of the important highlights in the Observer include:
Of the major urban cities, Moncton experienced the highest growth in the number of households (followed by Kelowna, St. John's and Calgary)
Spending on home renovation grew 3% in 2011 to $43.8 billion
In 2011, the average resale price of a home in Canada was $363,116

The highest average price was $779,730 in Vancouver
The lowest average price was $156,919 in Trois-Rivières
In 2011, housing starts were 194,000 units, a 2.1% increase from last year
The net worth of Canadian households increased in 2011 by roughly $7,000 (adjusted for inflation)
The full publication can be found online at http://www.cmhc.ca/observer
Realtors Blame Flaherty as Slump Deepens – The Globe and Mail
Finance Minister Jim Flaherty is taking fire from Canadian realtors, as they express their frustration with the deteriorating sales in November. Sales over the Multiple Listing Service (MLS) fell 1.7 per cent from October to November, and activity on the site as a whole has fallen 11.9 per cent from November 2011. Finally, the national average price of houses sold in November decreased by 0.8 per cent from a year ago. All of these patterns are expected to continue into the New Year.
Realtors believe the slow down stems from an overall tightening of the mortgage rules, including decreasing the maximum amortization from 30 years to 25 years. However, Flaherty says the new rules are only one part of the story. He reasons that Canadians are becoming increasingly aware that taking on excessive debt is unwise, especially in a time when interest rates are historically low. Toronto-Dominion Bank senior economist Sonya Gulati is expecting to see the market stabilize early next year, "as tighter mortgage rules loosen their grip on market trends and low interest rates lure homeowners back into the market."
CANADIAN MORTGAGE RATES
Where are they this week?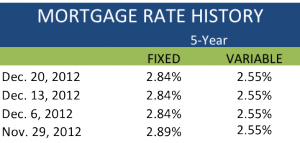 A history of weekly 5-year fixed mortgage rates and 5-year variable mortgage rates.
Canadian Mortgage Rates in 2012
The average discounted mortgage rate in Canada for 2012:

Would you like to licence Ratehub.ca data? Contact us!