Most Gen Y fear they won't be able to afford home ownership – The Globe and Mail
A new study released by Royal LePage indicates that Canada's millennials (Generation Y) are concerned that the current state of the housing market will hinder their ability to own a home. The most notable statistic from the survey revealed that 72 per cent of the Gen Y respondents believed housing prices had made them pessimistic about home ownership. The new mortgage rules, introduced in July of 2012, have had a notable impact on the ability for first-time homebuyers to get into the market. The survey reflects this notion, and found that 46 per cent of Gen Y's said that the new mortgage rules would affect their ability to purchase a home in some way. In comparison, only 21 per cent of the older generation felt the new mortgage rules would affect their ability to buy.
Canadian housing market to sputter this year, Scotiabank predicts – The Vancouver Sun
Scotiabank is predicting that the current reduced rate of housing sales and construction will continue well into 2013. There are many factors which are currently shaking the housing market, including increased home prices and new financing rules, making investors and homebuyers reluctant to enter the market. However, the report also predicts that there will not be a major correction in the national housing market, unless there is a major economic shock that sparks it. The slowing market is currently being balanced by today's ultra-low mortgage rates and two demographic factors: a rising immigrant population and an increase in one-person households.
Another way Americans get better deals: cheap, flexible, 30-year mortgages – Maclean's
South of the border, 80 per cent of buyers are locking into appealing 30-year fixed rate mortgages, while the maximum fixed term Canadians can lock in to is generally 10 years. While the 30-year fixed rate currently matches Ratehub.ca's best 10-year fixed rate, at 3.63 per cent, this long-term rate protects buyers against possible future rate hikes. The two countries mortgage-lending policies have clearly evolved differently, resulting from a number of factors:
Canadian banks are more risk averse; they hold most of their mortgage loans on their balance sheets, making them less willing to take on mortgages in excess of 10 years.
Two-thirds of U.S. mortgages are sold to investors as securities, allowing lenders to spread their risk. In contrast, only 28 per cent of Canadian mortgages are sold as securities.
The 30-year rate in the U.S. was designed to avoid refinancing risk that fueled the banking crisis in the Great Depression.
While Americans appear to have the upper hand when it comes to mortgage financing, the 2007 housing crash notwithstanding, it is important to note that the U.S. Federal Reserve's trendsetting rate is currently hovering just above zero, while the Bank of Canada overnight rate sits at one percent.
CANADIAN MORTGAGE RATES TODAY
A look at current mortgage rates and 5-year mortgage rate history.
A history of weekly 5-year fixed mortgage rates and 5-year variable mortgage rates.
Canadian Mortgage Rates Since 2012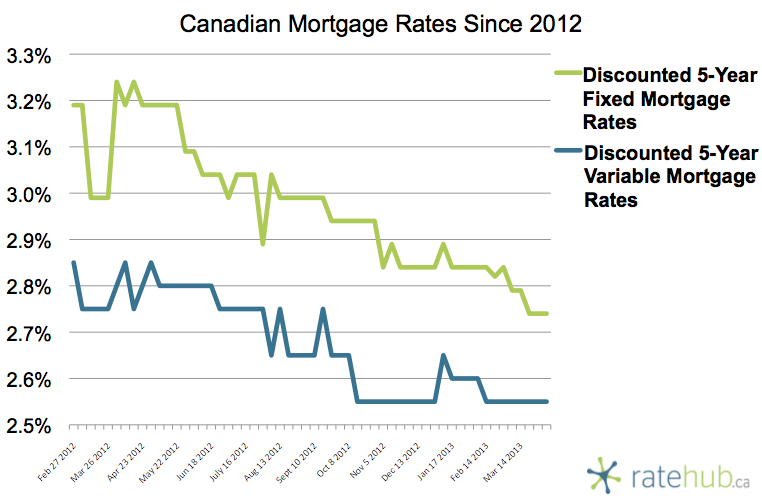 The average discounted mortgage rates in Canada in 2013: