Nearly 5 million Canadians (15% of population) have Irish ancestry.
More than 250,000 people immigrate to Canada annually, many of whom have dreams of setting up home. And while it's true that credit history and visa issues can get in the way, it's not as difficult to get financing as you may think – even if you need mortgage default insurance. Still, newcomers are advised to get their paperwork and credit history in order, before they apply for a mortgage.
"We had an idea that we wanted to settle here, but wanted to wait until we had our permanent residency (PR) cards in our hands," says Irish native Caitriona Ní Cuilinn. "The visa system here has been changing a lot in recent years, so we did not want to take the chance of buying a house and then being forced to move back home to Ireland."
Ní Cuilinn and her husband immigrated to Toronto three years ago, and used that time to build up savings and a Canadian credit history – a strategic move that allowed them to secure financing relatively quickly, but there were still a few snags along the way.
"We really had no idea what was required (to get a mortgage), especially with closing costs, land transfer tax and home inspections," she says. "Not knowing any mortgage brokers or realtors, personally, we had to rely on recommendations. As self-perceived 'outsiders', we were worried that we would be taken advantage of, so we spent our time meeting a few before choosing one."
From there, the couple quickly learned just how much paperwork would be involved in the overall transaction. While rare, some lenders and mortgage insurance providers may seek the financial history from an applicant's home country, especially if their Canadian credit history is limited.
The other thing to note is that every provider has its own policy in place. For example, RBC asks applicants with less than a 25% down payment to show they have a minimum of 3 months' full-time employment in Canada. When it comes time to getting pre-approved, RBC also includes all international debts in the total debt service ratio calculation.
"Thankfully, we have no debt back home (in Ireland) and had bank statements from our institution there, so were prepared in case they asked," says Ní Cuilinn, adding they subsequently did have to submit it to their mortgage insurance provider.
Their due diligence paid off, when the two permanent residents secured financing (with just 5% down) through their mortgage broker and purchased a 3-bed house in Burlington last month. "Just because you are a newcomer, it does not mean you cannot get a mortgage or even that it's more difficult," she says. "If you are prepared and financially able to do it, you can get the financing."
What type of newcomer are you?
If you're new to Canada, this chart can help you determine what type of mortgage you'll be eligible for, when you're ready to buy: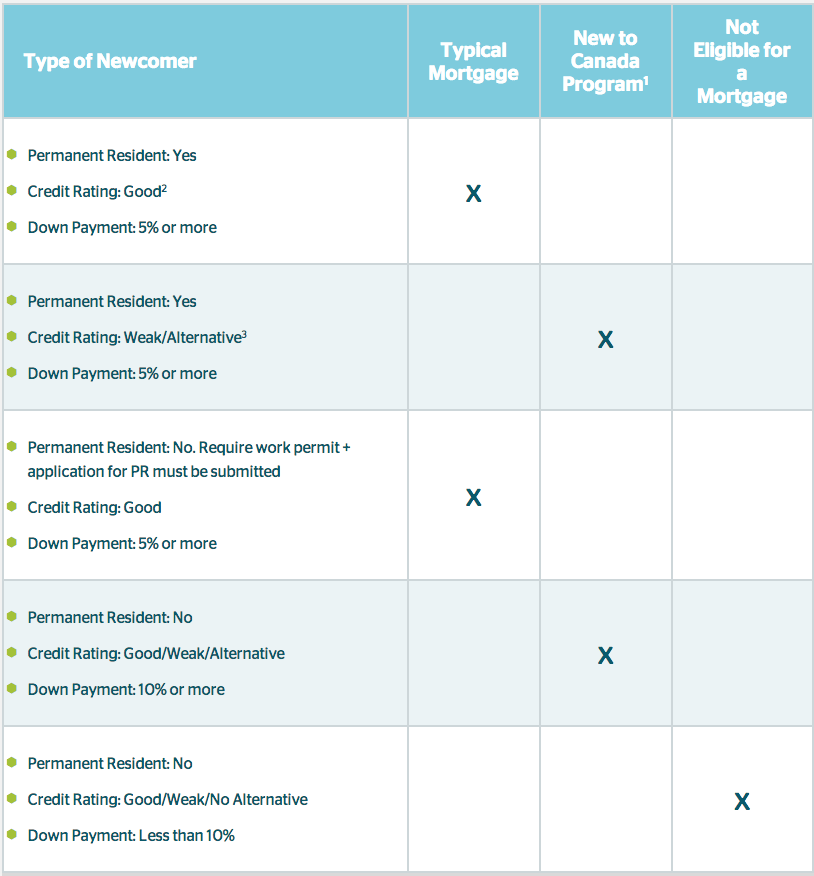 1 Any of the New to Canada programs offered by CMHC, Sagen or Canada Guaranty Mortgage Insurance.
2 Either a Canadian credit report or a recognized international credit report.
3 If you have a 20% down payment, but also have a weak credit history, you may still need to purchase mortgage default insurance.
Caitriona's 5 tips for newcomer buyers:
Have all your visa documentation in order.
Get a credit card and other bills activated as soon as you arrive, to help build your Canadian credit score (and check your score regularly).
Don't believe all the newcomer buyer myths. Seek advice from a mortgage broker and check out sites like Ratehub.ca for information on the different programs available.
To that end, don't believe all you hear in the news. There is a lot of negative press about the housing market, so ensure that you do your own research and seek professional advice.
Get information from other local buyers. Not being from the area puts newcomers at a disadvantage, so don't be scared to ask others for their thoughts/tips.
And, of course, save for your down payment!
Flickr: ollierb