Mortgage Monday Update: September 19, 2011
5 YEAR FIXED RATES
Last week we finally saw posted 5-year fixed rates start to drop, after witnessing 5-year Government of Canada Bond yields hit record lows week after week prior to. It was a long waiting period before banks decided to pass on the low rates to consumers, as many economists had called for. Last week, we saw the 5-year GoC bond yield close 18 basis points higher than the previous week, at 1.55%, but still remain low overall. From "The Big Five", the banks RBC, BMO, and TD Bank took charge by lowering their posted 5-year fixed rates last week, with RBC surprisingly dropping their rate two consecutive days. This morning, CIBC was the latest member to lower their respective rate, leaving Scotiabank as the only "Big Five" bank left to follow suit. And we predict Scotiabank will drop their mortgage rate very soon, particularly because they actually raised their posted 5-year fixed rate early last week.
4 YEAR FIXED RATES
What is interesting to note is posted 4-year fixed rates were all over the map last week, with some lenders opting to raise them, while others chose to drop them. Both RBC and TD raised their 4-year interest rate during the same week they dropped their 5-year rate, a curious move indeed. BMO, Desjardins, National, and Scotiabank all felt it was necessary to lower their respective posted 4-year mortgage rate. We're not quite sure what to make of the landscape just yet, but we feel that 4-year fixed rates will start to harmonize over the next little bit.
5 YEAR VARIABLE RATES
As mentioned in our last Monday Mortgage Update, the discount on posted 5-year variable rates are starting to further reduce. This trend continued into last week, with both Scotiabank and PC Financial raising their interest rates to Prime-0.30. Most Canadian banks currently rest their 5-year mortgage rate at Prime-0.0%.
CURRENT MORTGAGE RATES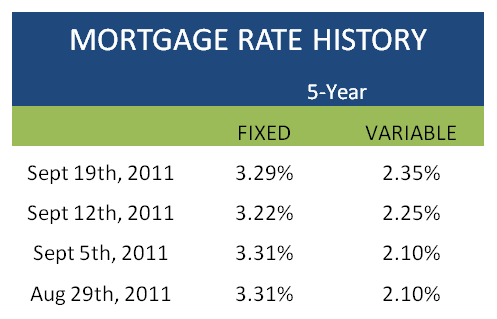 *according to Ratehub.ca mortgage rates
Discounted weekly 5-year fixed mortgage rates and 5-year variable mortgage rates from January 2011 to the present.
Historical trend of monthly discounted 5-year fixed mortgage rates and discounted 5-year variable mortgage rates from May 2006 to September 2011.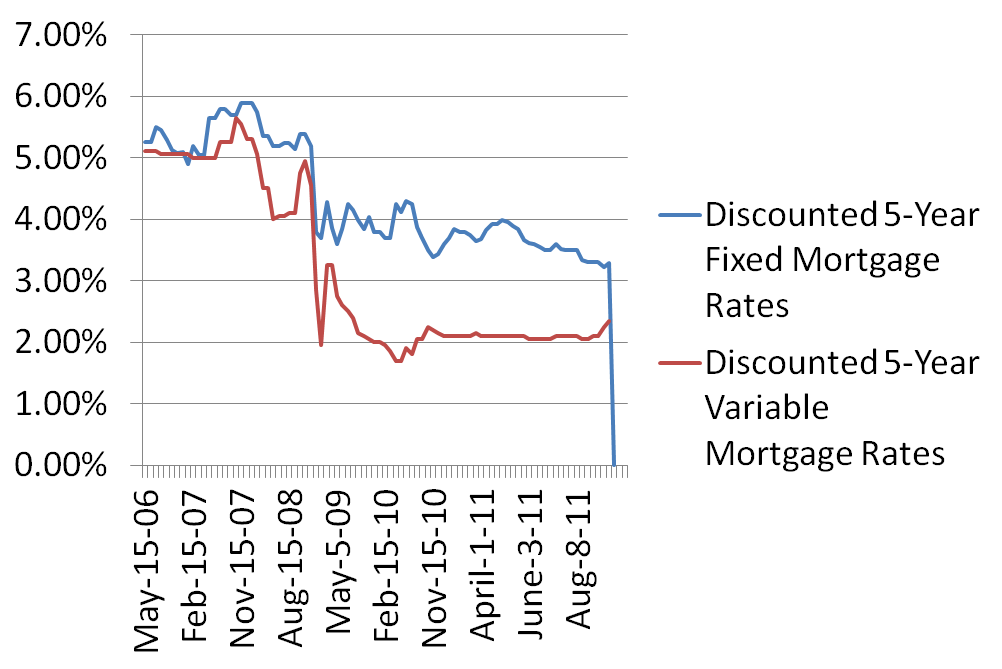 What mortgage products are Canadians buying?
The spread between 5-year fixed mortgage rates and 5-year variable rates continues to shrink and we're starting to see that reflected in mortgage product popularity. 5-year fixed rates are starting to even out with 5-year variable rates after weeks of variable preference on Ratehub.ca
Note:  This is simply a small sample size and does not represent the entire market. It does, however, offer some useful insight.
Sources
[1] Move Smartly