Mortgage Monday Update: September 12, 2011
We've had a full week to digest the news since the Bank of Canada interest rate announcement last week, where the central bank kept the overnight lending rate untouched, as many had expected. Given the current state of the economy, it doesn't look there will be a Bank of Canada interest rate hike for some time. 
 "Variable roller coaster still hard to beat"
This quote was taken from a recent report released by BMO Capital Markets, and what makes it so interesting is that this Canadian bank has almost hinted at which type of mortgage rate is best for you.  Why is this so surprising? Because the higher the interest rate is on a mortgage product, the more banks earn can a profit*. And fixed mortgage rates are almost always higher than variable mortgage rates. BMO also confirms that historically, borrowers save money through variable products.  Take a look at their chart below which clearly displays variable rate superiority over the past 35 years.
*When the cost of borrowing remains the same, (i.e. the overnight rate). Banks can increase their revenue by increasing the spread between their rate charged to consumers versus the cost of borrowing.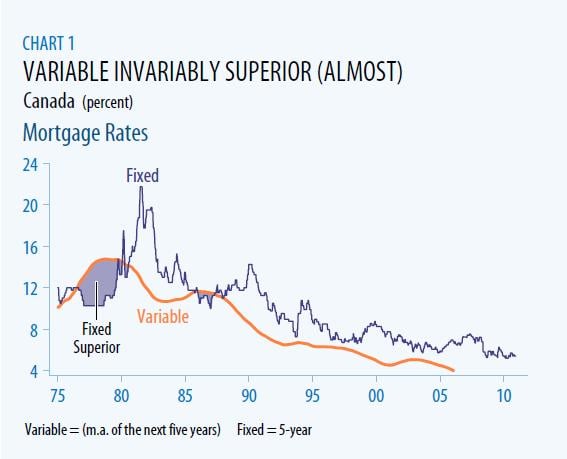 Via BMO Capital Markets
Some key points taken from the report:
Since the 1980s, we've been in a "long-term" declining rate environment
Due to the BoC's already low policy rate, variable rates have limited further downside
Posted rates disguise the fact that "negotiated" fixed rates are much closer to variable rates
What is interesting in this report is that they make a case for choosing fixed. The last time a fixed rate was superior to a variable rate was during the late 70s and late 80s, both because they occurred during a period when rising interest rates were expected. And since most industry experts forecast rates to rise next year, locking in a fixed rate might be the wise thing to do, especially when 5-year fixed rates are hovering near record lows.
In addition to supporting fixed rate mortgages, they also make a case for variable rates as well, which appears to supercede their fixed rate argument. The advantage with variable is that although rates are expected to rise, they aren't expected to increase by that much. The strong Canadian dollar, tame inflation, and a struggling global economy, are all factors that suggest that the overnight rate should increase modestly at best. According to BMO, that number is 1.25% by 2012.
Government of Canada Bond Yields
Last week we saw 5 year bond yields drop 18 basis points for a record low of 1.29%. Even in the face of record low 5-year Government of Canada bond yields, banks continue to stand pat on their 5-year fixed mortgage rates as we saw no movement last week. It's no surprise that the product of choice lately has been the variable rate mortgage.
"If variable-rate borrowers take advantage of what looks like at least two more years of rock bottom rates by ploughing those savings back into their mortgage, they will be well ahead of their fixed-rate counterparts when rates eventually start to rise." – David Larock [2]
Current Mortgage Rates
The lowest fixed 5-year mortgage rate in Canada has dropped to 3.22%, while the lowest 5-year variable mortgage rate has risen to 2.25%*.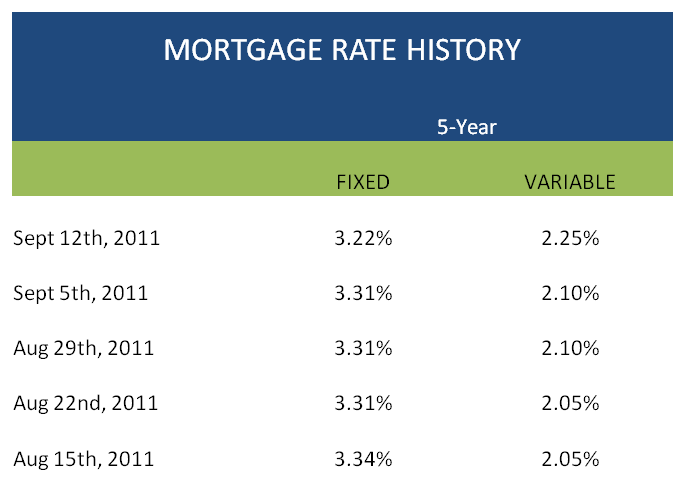 *according to Ratehub.ca mortgage rates
Discounted weekly 5-year fixed mortgage rates and 5-year variable mortgage rates from January 2011 to the present.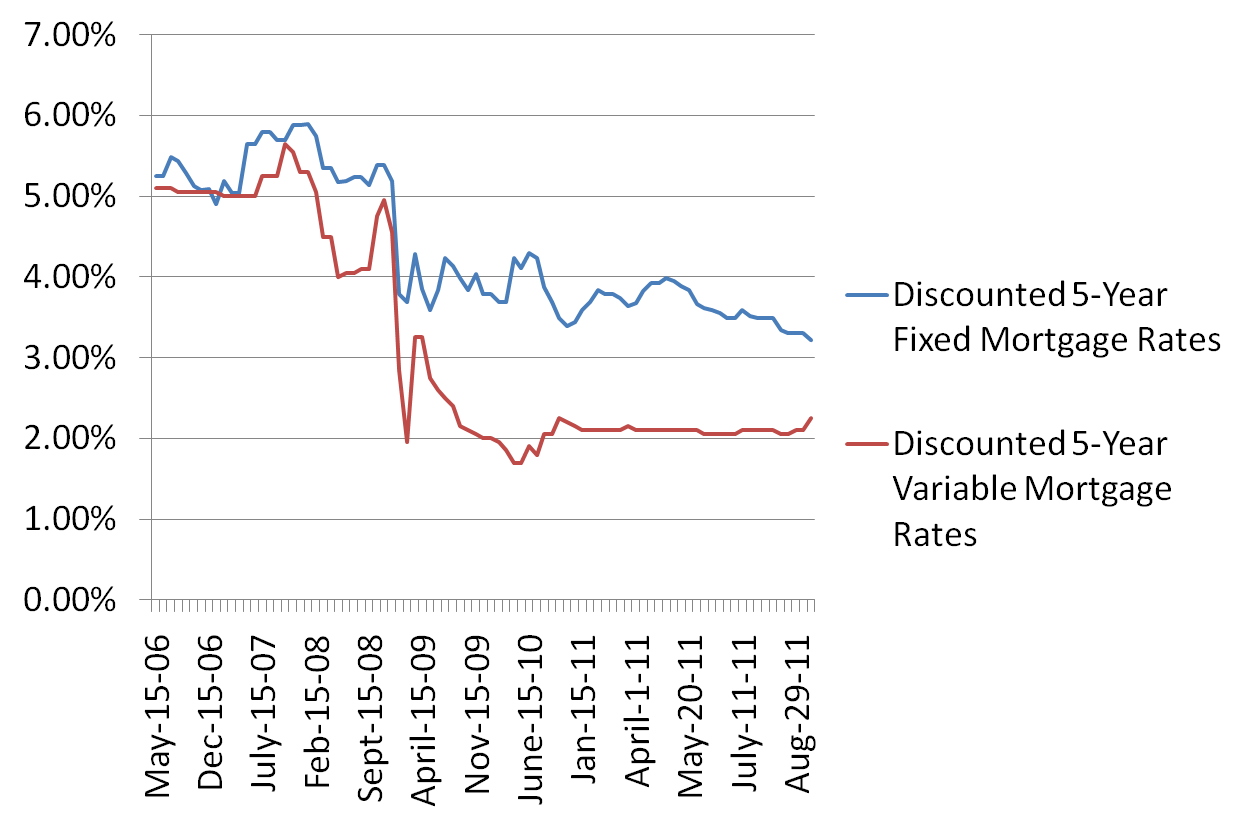 Historical trend of monthly discounted 5-year fixed mortgage rates and discounted 5-year variable mortgage rates from May 2006 to September 2011.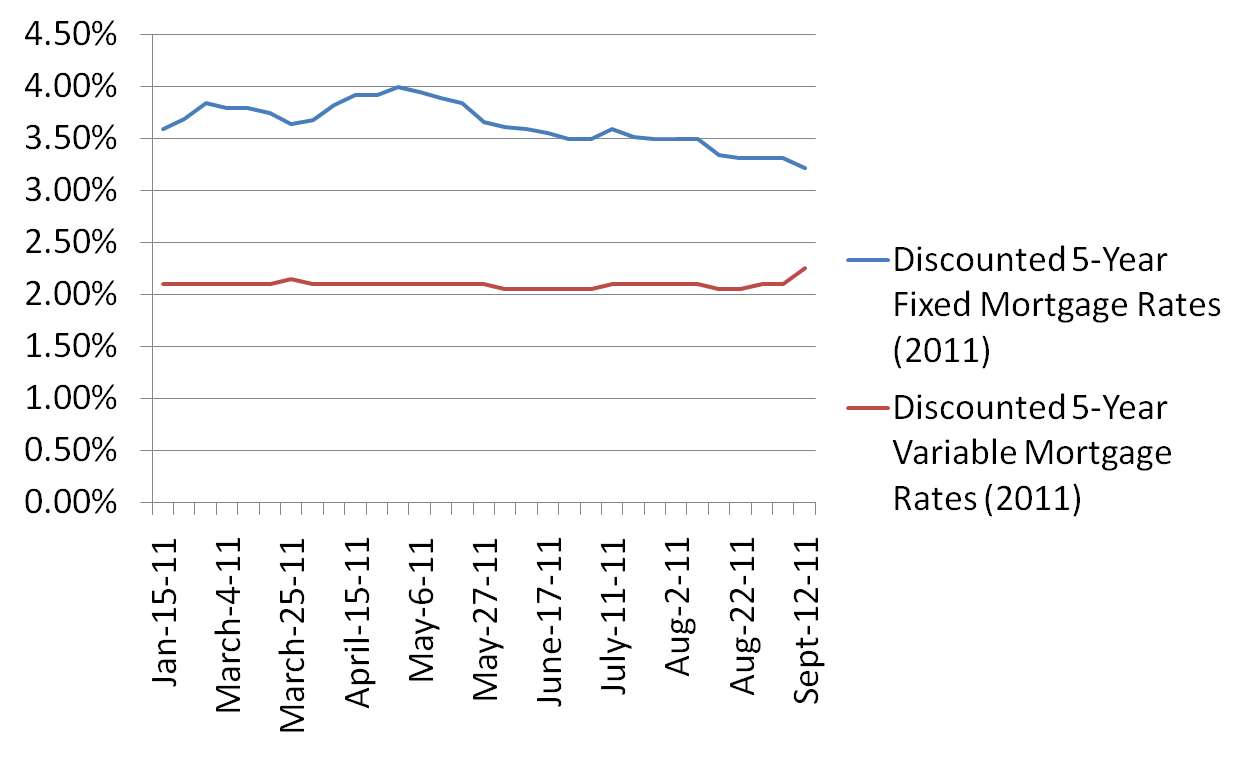 What mortgage products are Canadians buying?
The spread between 5-year fixed mortgage rates and 5-year variable rates shrunk last week, which was reflected in the mortgage product popularity. The fixed rate outperformed the variable for the first time in weeks. It will be interesting to see if this trend will continue.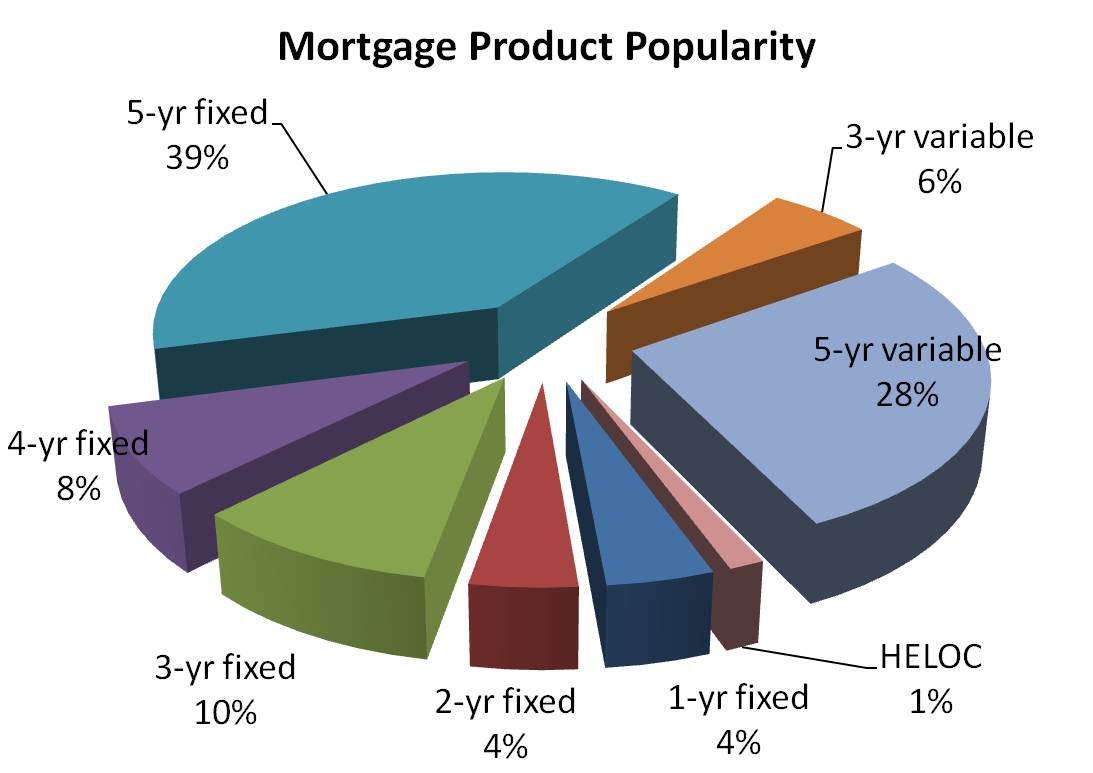 Note:  This is simply a small sample size and does not represent the entire market. It does, however, offer some useful insight.
Sources
[1] http://www.bmonesbittburns.com/economics/focus/recent/110909doc.pdf
[2] http://www.movesmartly.com/
Also read: