Since last week's Monday Mortgage Update, both fixed and variable mortgage rates have remained unchanged in Canada. However, behind this untouched façade, there have been some fluctuations in Government of Canada bond yields, which dictate the direction (for the most part) of fixed mortgage rates.
On Tuesday, the yields hiked up by 8 basis points (bps), and then plummeted by more than 13 bps on Wednesday, to finish by about 7 bps down at the end of the week [1]. It is still uncertain what this could mean in the long-term, but for the time being, fixed mortgage rates still seem to be heading downhill.
The Qualifying Mortgage Rate was dropped by a tenth of a percentage point for the third week in a row and now stands at 5.39% [1]. The Qualifying mortgage rate is the benchmark rate used by lenders to determine the affordability of borrowers seeking variable mortgages or mortgages with terms of less than five years.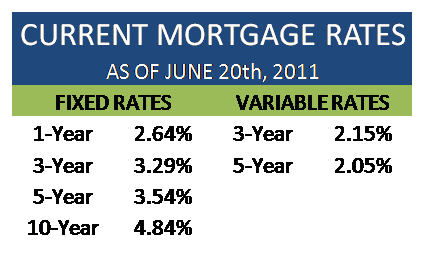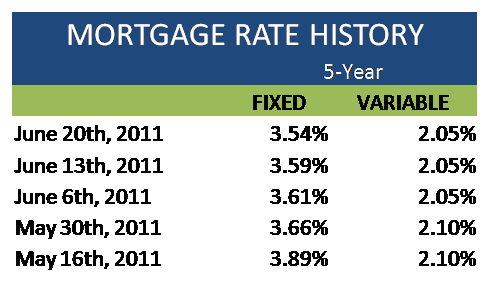 Last Tuesday, TD Bank released its Quarterly Economic Forecast (QEF) publication with updated financial and macroeconomic forecasts for the global economy as well as U.S. and Canadian economies. The Chief Economist at TD, Craig Alexander, revised his stand on variable rates, now stating that variable rates will be on hold for longer than previously thought[2].
The publication did mention "two primary risks" to their revised assessment [2].
1.  The possibility that higher domestic demand will require higher interest rates.
2.  The evolution of inflation expectations. The central bank could start hiking if the Bank falls behind the inflation curve. But, as long as inflation expectations are kept at bay, the Bank of Canada will likely wait before increasing interest rates.
Monthly historical trend of discounted 5-year fixed mortgage rates and discounted 5-year variable mortgage rates from May 2006 to June 2011.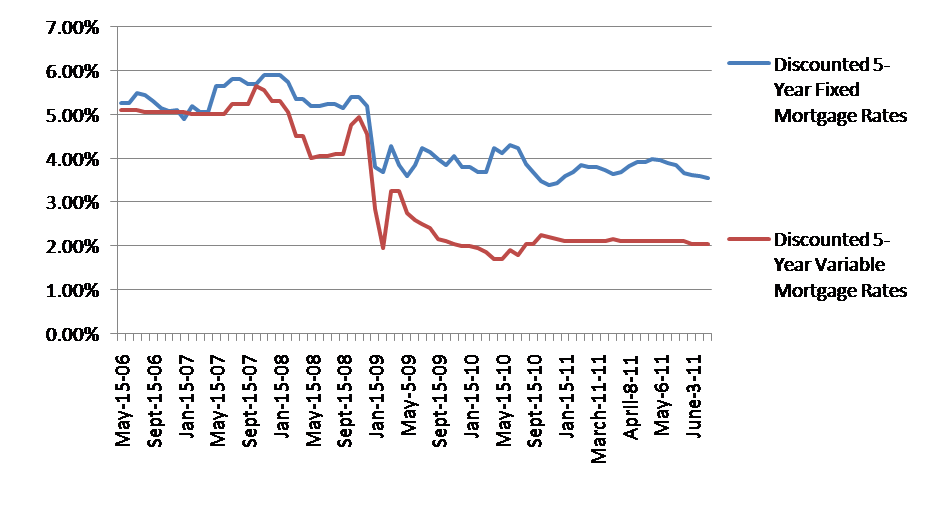 Discounted 5-year fixed mortgage rates and 5-year variable mortgage rates weekly from January 2011 to June 2011.
Product popularity on Ratehub.ca
This week, 5-year variable rates made up the largest portion of the market share on Ratehub.ca at 62% of mortgage types sold. The second most popular mortgage product was 5-year fixed mortgage rates with 20% of the market share.* It is interesting to note that despite the decreasing spread between fixed and variable rates, 5-year variable rates are currently much more popular than their fixed counterpart.
*Note:  This is only a small sample size and does not represent the market as a whole. It does, however, offer some useful insight.
Sources:
[1] http://www.movesmartly.com/
[2] http://www.td.com/economics/special/ca0611_boc.pdf