After an exciting two weeks of significant rate-dropping, mortgage rates seem to have reached a temporary plateau.  All major banks and most financial institutions have kept both fixed and variable mortgage rates unchanged this week.
However, bond yields have dropped and home sales are slowing down, so increased competition between lenders to entice customers could cause some mortgage rate activity over the summer.
Some of the largest economies in the world, including the US and Europe, are struggling at the moment, and it seems like Canada is waiting for the rest of the world to catch up. Since the US and Canadian markets are closely interconnected, monitoring the US economy will give us a good idea of the pressures that will be exerted on Canadian rates. From Canada's current economic standing, we could permit an increase in interest rates. However, hiking up interest rates could cause a spike in the Canadian Dollar. Such a move would have negative consequences on exports and manufacturing. As a result, Canada is currently biding her time and waiting for the opportune moment.
When the Bank of Canada inevitably does raise interest rates, possibly in the fall, this will consequently raise variable mortgage rates. Fixed mortgage rates, however, could remain low due to homeowners retracting from the market and thereby increasing competition among lenders. The lowest 5-year fixed rate is currently 3.59%.
At the moment, the best variable mortgage rates are available at around prime minus .95%.  Meanwhile, the Mortgage Qualifying Rate, the rate used to determine the eligibility of variable rate borrowers, dropped to 5.49%.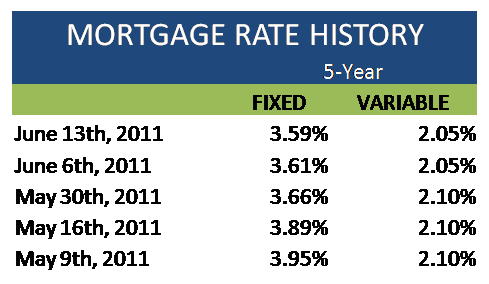 What is Canada buying?
This week at Ratehub.ca, 5-year variable rates made up a large chunk of the market share with 48% of mortgage types sold. In second place for the most popular mortgage product, are 5-year fixed mortgages at 30% of the market share.*A significant trend is the decreasing spread between fixed and variable rates. Due to the large margins on fixed rates (as opposed to variable), there is room for dropping rates when the market becomes more competitive.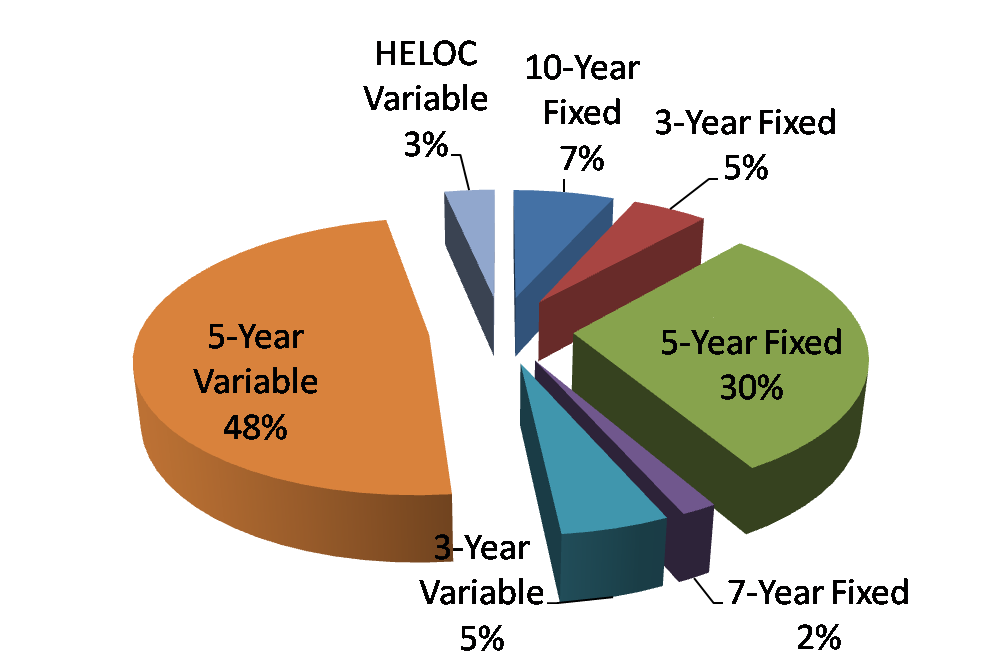 *Note:  This is only a small sample size and does not represent the market as a whole. It does, however, offer some useful insight.
Sources:
http://www.marketwire.com/press-release/mortgage-rates-stay-low-as-canada-waits-for-the-rest-of-the-world-to-catch-up-1525850.htm