Early in July, we saw rate hikes by major banks and lending institutions due to the increased yield of Government of Canada bonds. This week, however, all the "Big Banks" in Canada dropped their fixed mortgage rates once again, and for some institutions, rates are back to where they started earlier this month. In last week's mortgage update, we predicted that the recent upward rate trends may not be drastic in the short term.
Now, we can say that this does indeed seem to be the case. The 5-year Government of Canada bond yield fluctuated this week, finally finishing at 11 basis points down.
Internationally, the American economy has been under severe scrutiny. The United States has been issuing U.S. treasury bonds to cover the shortfall between revenue and spending that they accumulate every month. However, experts estimate that the country is going to run out of money around August 2nd 2011 and as a borrower, won't be able to make their payments [1].
If this sounds serious to you, then you're absolutely right. Nobody really wants to find out what will happen if the United States federal government runs out of money. Likely, social security programs will stop sending out cheques, non-essential employees will be put on hold, the military won't be able to pay their troops and the country's credit rating would suffer a tremendous loss and plunge from AAA to D (lowest rating possible) [1]. This is highly undesirable as all U.S. state and municipal debt is also tied to the federal credit rating. This credit rating would result in exceptionally high interest rates associated with any borrowing. In addition, the U.S. dollar will probably collapse and have a domino effect on the U.S. equity markets. The likely "solution" to this problem is the raising of the debt ceiling. Although this means of addressing the deficit is akin to sweeping the dirt under the rug, it seems to be a preferable alternative.
Needless to say, if no solution is decided on, there will be severe consequences on the world's economies, including Canada.
Tomorrow, the 19th of July, the Bank of Canada will make its next interest rate announcement. The overnight lending rate determines interest rates which affects the Canadian economy and as a result determines the fate of mortgage rates in Canada. It is highly unlikely that the Bank of Canada will raise interest rates tomorrow. This decision will be a means of protecting the Canadian economy and promoting growth with the current low interest rates. If the decision to keep the rates the same is made, Canada runs the risk of inflation later. However, the decision makes sense in the light of how other international economies are faring and will serve as a means of protecting the Canadian economy from those of the U.S. and Europe [2].
Current mortgage rates
The lowest 5-year fixed mortgage rate is 3.51%. 5-year variable mortgage rates can be found for as low as 2.10%.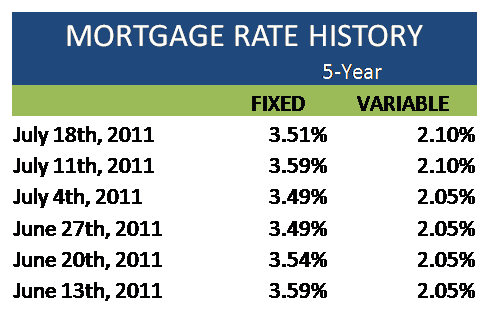 Historical trend of monthly discounted 5-year fixed mortgage rates and discounted 5-year variable mortgage rates from May 2006 to July 2011.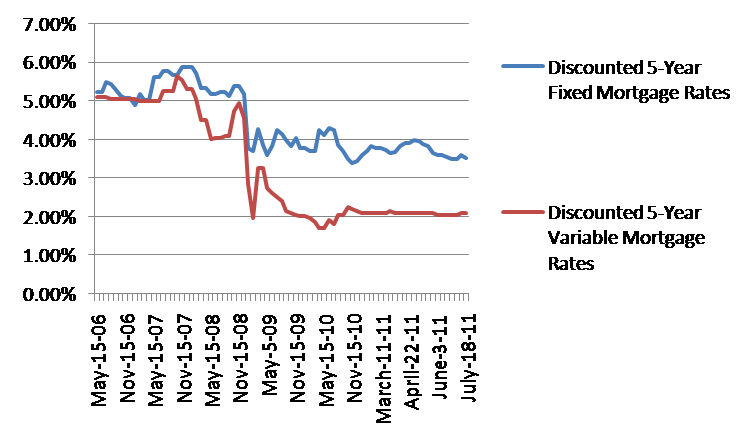 Discounted weekly 5-year fixed mortgage rates and 5-year variable mortgage rates from January 2011 to July 2011.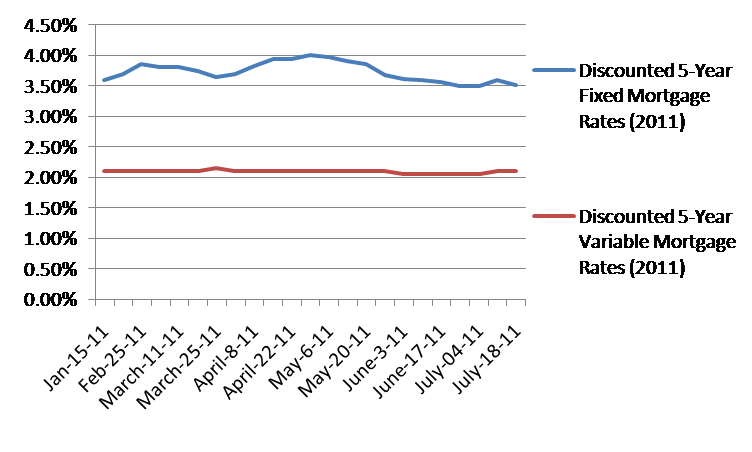 What mortgage products are Canadians buying?
This week on Ratehub.ca, 5-year variable mortgage rates in Canada made up 50% of the market share of products sold. The second most popular product was 5-year fixed mortgages which made up 35% of the market*.
Fixed rates remain at all-time record lows, so, once again, it may be the opportune moment for you to lock in a fixed rate (considering the current volatile circumstances).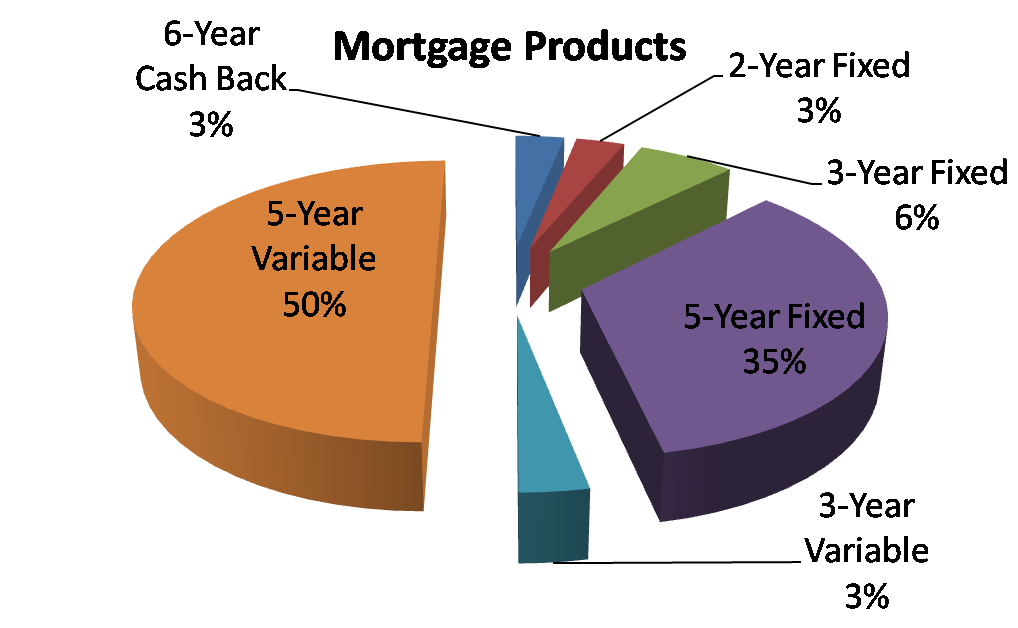 *Note:  This is simply a small sample size and does not represent the entire market. It does, however, offer some useful insight.
[1] http://www.movesmartly.com/ [2] http://www.bnn.ca/Blogs/2011/07/18/Market-waits-for-Bank-of-Canada-decision.aspx