The Canadian mortgage market is once again feeling the winds of change.  This past week brought us some unexpected changes on the variable front that left some home-buyers a little confused as to what mortgage product to pursue.
Fixed Mortgage Rate Outlook
Last week, we saw a hike in five-year Government of Canada (GOC) bond yields, finishing 13 basis points higher. The traditional gross spread level is around 150 basis points and if lenders were to use this benchmark, the current government bond yield suggests a 5-year rate of around 3.10% [1], which is currently the lowest 5-year fixed rate available. But for the moment, most lenders are making use of the extra spread and standing in unison to protect their profit margins.
Rather than decreasing the fixed rates, lenders chose to increase variable rates to address the increasing profit gap between the two.
Variable Mortgage Rate Outlook
Last week, RBC signaled that variable mortgage rates were too costly and cut their discount. Their 5-year variable rate now stands at prime – an even 3.00%. As expected, the big banks as well as smaller financial institutions followed suit and we saw an overall increase in variable rates over the course of the week.
For lenders, the profit earned on variable rates is a fraction of that earned on fixed rates. However, variable mortgage products have been consistently popular among borrowers in recent months. Consequently, lenders have been driven to increase the spread between fixed and variable rates, thereby making fixed rates look more enticing.
The growing popularity of variable mortgage rates may take a slight dip as home-buyers weigh their options and are forced to rethink their mortgage options.
If you're considering a variable rate, cover your bases and get a rate hold as soon as possible. The prime rate is prone to fluctuations, but a 90 to 180-day rate hold can guarantee you the discount in relation to prime. Despite the increases, a variable rate may still translate to greater savings in the long run.
Economic Outlook
The Bank of Canada doesn't intend to raise short-term rates in the near future and Finance Minister Flaherty is highly concerned about controlling consumer borrowing in the current extended low-rate situation. Lenders can justify their hike on variable rates, citing that this pre-emptive move may circumvent the need for a fourth round of mortgage rule changes, which would inevitably be more permanent [1].
On August 25th, Scotiabank released a global forecast update stating that due to a weaker U.S. economic performance and "a more cautious consumer", they have lowered expectations for Canadian GDP growth. Now, output growth is expected to average around 2.6% in 2011 and 2.4% in 2012. This has reduced by 0.1 of a percentage point since the last prediction [2].

Current Mortgage Rates
The lowest fixed 5-year mortgage rate in Canada is currently still 3.31%, which represents a third consecutive new low in as many weeks. The lowest 5-year variable mortgage rate is now 2.10%, up from last week.*
Some lenders are trying to maximise their market share and are still offering lower variable rates.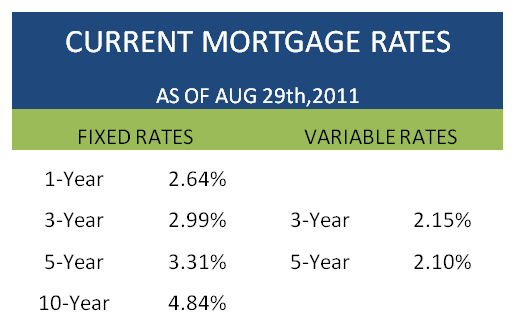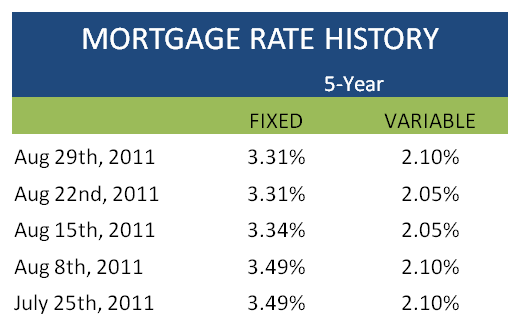 *according to Ratehub.ca mortgage rates
Discounted weekly 5-year fixed mortgage rates and 5-year variable mortgage rates from January 2011 to the present.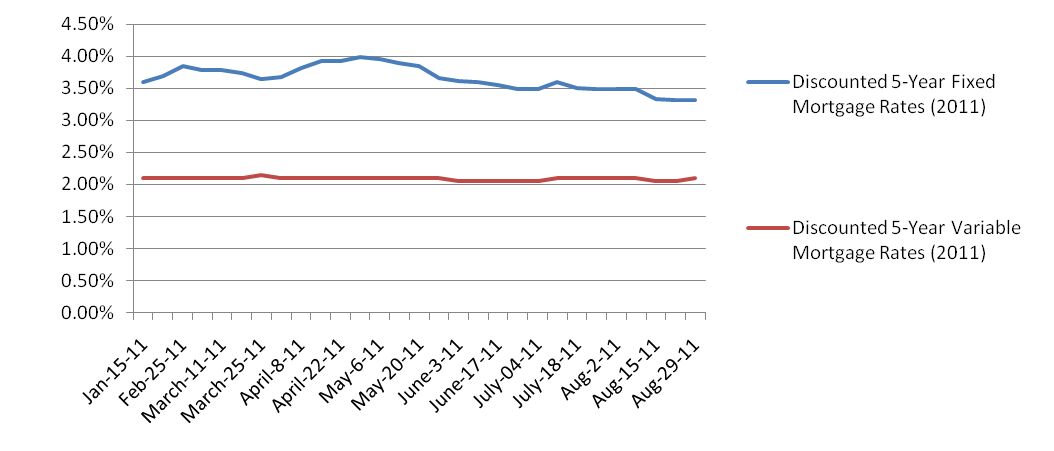 Historical trend of monthly discounted 5-year fixed mortgage rates and discounted 5-year variable mortgage rates from May 2006 to August 2011.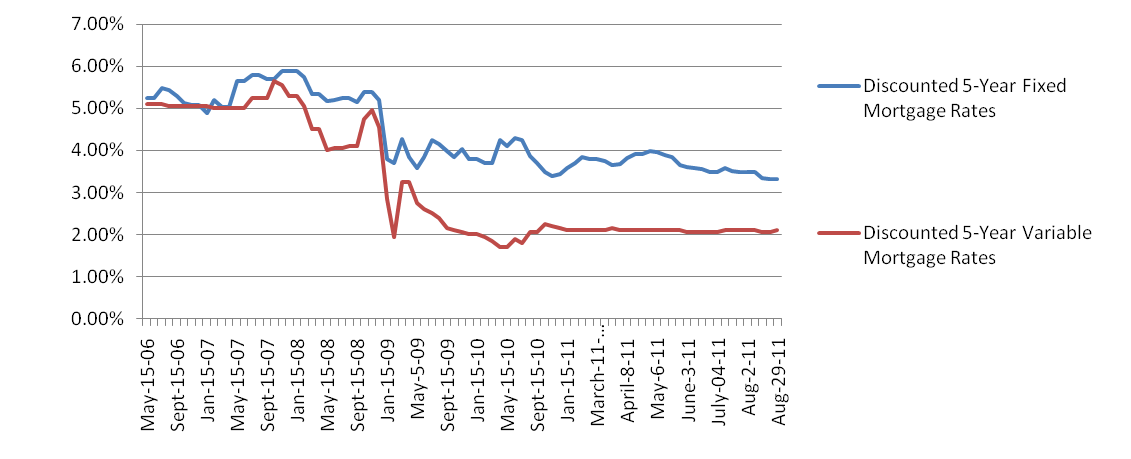 What mortgage products are Canadians buying?
Despite the hike in variable rates, the 5-year variable is once again the most popular product on Ratehub.ca with 42% of mortgage products sold. The second most popular product was 5-year fixed rate mortgages making up 39% of mortgage products sold.
It will be interesting to see what effect the variable rate changes will have on mortgage popularity next week.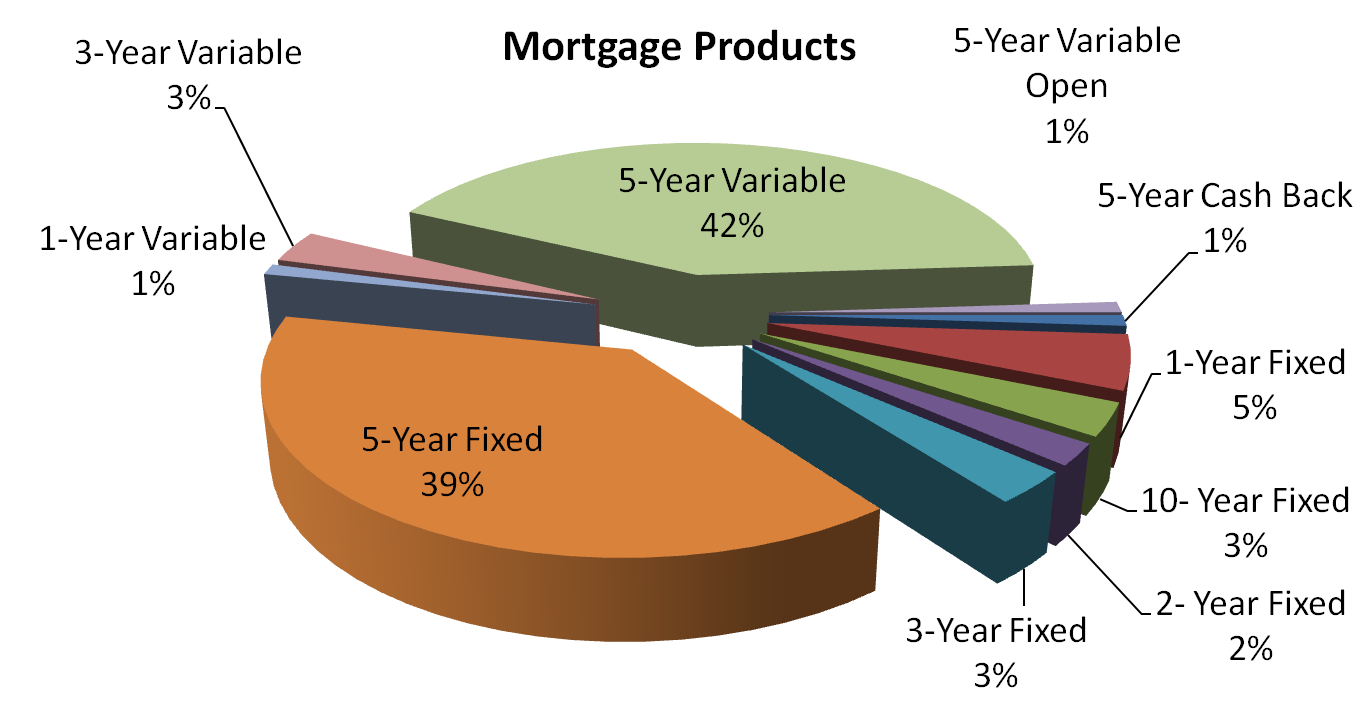 Note:  This is simply a small sample size and does not represent the entire market. It does, however, offer some useful insight.
Sources:
[1]
http://www.movesmartly.com/2011/08/monday-morning-interest-rate-update-august-29-2011.html
[2]
http://www.scotiacapital.com/English/bns_econ/forecast.pdf
http://www.canadianmortgagetrends.com/canadian_mortgage_trends/2011/08/variable-rates-in-flux.html#more