Mortgage Rate Recap
Two of Canada's largest banks, RBC and BMO, decreased their 3-year fixed rates by 20 basis points (0.20 per cent) last week.  RBC's fixed rate, now currently at 3.19 per cent, is significantly lower than BMO's offering of 3.85 per cent. However, the best bank mortgage rate for a 3-year fixed rate is provided by TD Bank at 3.10 per cent.
Mortgage Market Share
An article from CanadianMortgageTrends.com showed the most recent data on second-quarter (Q2)mortgage market share performance. Canada's third-largest bank, Scotiabank, sat in the top spot for the quarter, as one-in-five mortgages fell under their books. Only one other Big Five bank, TD Bank, made the top ten at the number three spot. It's noteworthy to point out that ING Direct was number eight on the list, which means Scotiabank's acquisition of the Dutch-based company's Canadian arm last month will likely strengthen Scotiabank's market share in the near future. Canadian Mortgage Trends sourced the data from a report by Davis+Henderson (no longer available).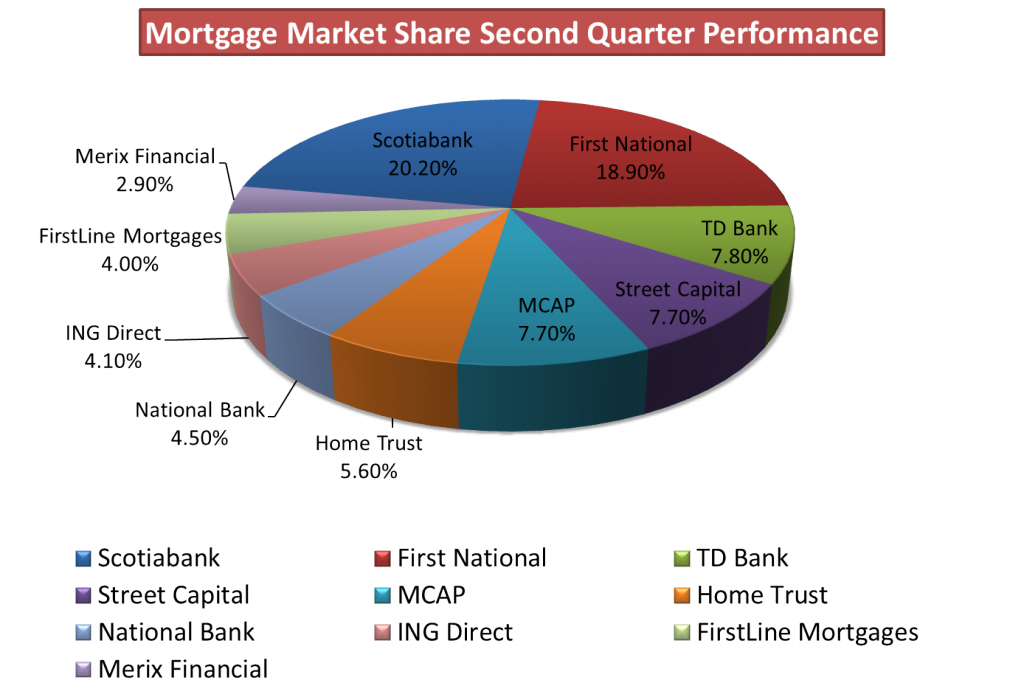 A history of weekly 5-year fixed mortgage rates and 5-year variable mortgage rates
The average discounted mortgage rate in Canada for 2012:

Note:  This is simply a small sample size and does not represent the entire market. It does, however, offer some useful insight.