Monday Mortgage Update: September 17, 2012
Mortgage Rate Forecast
Canada's biggest banks seem to differ on where they believe the overnight rate will head next year. CIBC says the negative impact from international markets will force the Bank of Canada Governor Mark Carney to keep the overnight rate on hold at 1.00% for the duration of 2013. In their World Markets Report, they cite that there are "enough questions on the global scene" to hamper economic growth, including Europe's debt issues and the lingering doubts about growth in the United States. RBC on the other hand, believes that Canada's economic momentum will improve during the course of 2013, forcing the central bank to raise the overnight rate in each quarter next year.
The overnight rate influences the prime rate which drives variable mortgage rates. An increase in the overnight rate would therefore cause variable mortgage rates to rise.
If RBC's overnight rate prediction proves to be true, variable-rate mortgage borrowers would expect to see their regular mortgage payments increase.


Canada Mortgage Rates: Where are they this week?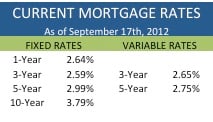 A history of weekly 5-year fixed mortgage rates and 5-year variable mortgage rates
Canadian Mortgage Rates in 2012
The average discounted mortgage rate in Canada for 2012:

Note:  This is simply a small sample size and does not represent the entire market. It does, however, offer some useful insight.