The major mortgage news from last week was the Bank of Canada's interest rate announcement that saw the overnight rate remain at 1.0%. There wasn't much movement from 5-year fixed mortgage rates last week as 5-year Government of Canada bond yields finished only a few basis points higher than the previous week. There was a huge rise in variable rates that occurred in the middle of the month, but it looks like they've dropped and levelled off over the past two weeks. Even though the spread between variable and fixed mortgages have been shrinking lately, it still might be an opportune time to choose a variable mortgage.
Final Thoughts:
So far, the only thing frightening on Halloween is the lingering global economic landscape, particularly in the USA. Mortgage rates remain at relative historical lows, and there is no likelihood of a Bank of Canada interest rate hike on the horizon.
Current Mortgage Rates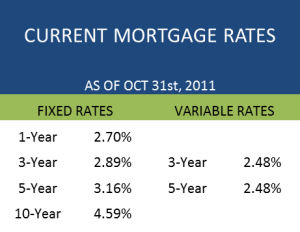 Discounted weekly 5-year fixed mortgage rates and 5-year variable mortgage rates over the past five years.
Discounted weekly 5-year fixed mortgage rates and 5-year variable mortgage rates from January 2011 to the present.
What mortgage products are Canadians buying?
5-year fixed and variable mortgage remain the dominant choice for mortgage consumers, however, last week we saw a spike in 5-year cash back mortgages which was a bit surprising. Cash back mortgages are ideal for customers looking for to switch from the current providers because the cash advance usually covers the cost of the mortgage penalties. Also making a strong appearance last week was 2-year fixed mortgage rates, which might be attributed to Scotiabank's very competitive 2-year interest rate of 2.49%.
Note:  This is simply a small sample size and does not represent the entire market. It does, however, offer some useful insight.
Also read: