Prime Rate Remains at 3%, Bank of Canada Holds Overnight Lending Rate at 1%
Variable rate mortgage holders can breathe a sigh of relief – the Bank of Canada announced it will leave the overnight lending rate (the rate banks borrow and lend from one another) at 1.00%. I wasn't surprised to hear that the overnight lending rate was unchanged – it has remained at 1.00% for over two years, since September 2010. If you do have a variable rate mortgage, however, it's important to understand the risks you face should interest rates ever rise.
Individual lenders set Prime Rate based on the overnight lending rate and the interest rate you pay with a variable rate mortgage is stated as Prime Plus/Minus. For example, if you were lucky enough to get a Prime – 0.90% variable rate mortgage in 2011, you'd only be paying 2.10% interest right now. If your lender's Prime Rate went up, not only would you pay more interest, your mortgage payments would increase as well. For example, with a mortgage principal of $200,000, your monthly payment would be $946 at a mortgage rate of 3.00%. However, if your variable mortgage rate increased to 3.50%, your monthly payment would increase by $51 to $997. Over a 5-year mortgage term, if your mortgage rate is 3.50% instead of 3.00%, you'll pay $4,733.72 more in interest – $32,472.39 at a 3.50% mortgage rate versus only $27,738.67 at 3.00%.
Now is the Time to Ask: Fixed or Variable?
Studies have shown nine times out of ten you'd save money with a variable rate mortgage over a fixed. However, that was then and this is now – Mark Carney has indicated interest rates are more likely to go up than down. We have been in a falling interest rate environment since the economic crash in 2008. But, go all the way back to August 7, 1981 – when Prime Rate reached 22.75% – and you can see why many go with the security of a fixed rate mortgage. Although the Bank of Canada has vowed to never let interest rates reach those levels again, it shows how quickly rates can rise.
Have you noticed banks are no longer offering juicy discounts on variable rate mortgages? Pay attention now and choose your mortgage type wisely. If the threat of an interest rate hike doesn't keep you up at night, a variable rate mortgage might be for you. However, if an interest rate hike would have an adverse effect on your budget, a fixed rate mortgage might be more sensible. With Carney's particular concern over rising household debt level ratios, anyone with debt tied to Prime Rate should be careful not to overextend themselves – interest rates won't be low forever.

Canada Mortgage Rates: Where are they this week?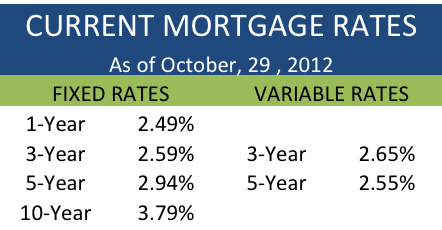 A history of weekly 5-year fixed mortgage rates and 5-year variable mortgage rates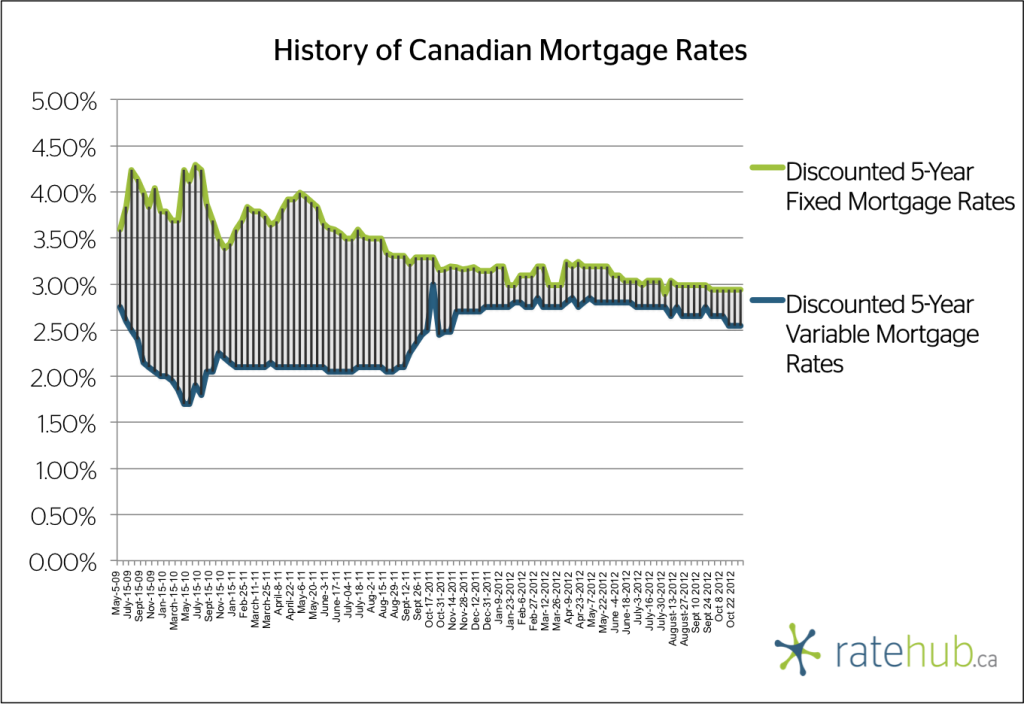 Canadian Mortgage Rates in 2012
The average discounted mortgage rate in Canada for 2012:
Sean Cooper is a personal finance freelance writer and blogger. You can check out his portfolio athttp://www.seancooperwriter.com.