Two weeks ago, we tracked discounted 3-year fixed rates from RBC and BMO and found that their rates dropped by 0.20 per cent (20 bps) each. Typically, when one of the Big 5 adjusts one of their mortgage rates, others tend to follow. As expected, Desjardins, TD Bank, Laurentian Bank, and National Bank all lowered their 3-year fixed rates in response to RBC and BMO's move.
Fixed mortgage rates are driven by Government of Canada (GoC) bond yields. For example, 3-year fixed mortgage rates increase when GoC 3-year bond yields increase. Examining GoC benchmark 3-year bond yield performance over the last three weeks reveals a downwards trend; from a high of 1.30 per cent on September 14th, down to a 1.14 per cent closing on Friday, for a total drop of 0.16 per cent. The reduction in 3-year benchmark bond yields have allowed banks to make similar decreases to their 3-year fixed rates. There is good probability that CIBC and Scotiabank will reply with similar rate drops in the near future.
Canada Mortgage Rates: Where are they this week?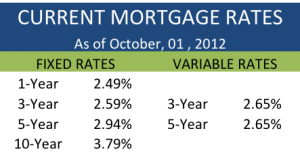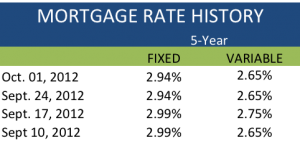 A history of weekly 5-year fixed mortgage rates and 5-year variable mortgage rates
Canadian Mortgage Rates in 2012
The average discounted mortgage rate in Canada for 2012:

Note:  This is simply a small sample size and does not represent the entire market. It does, however, offer some useful insight.