Monday Mortgage Update: May 7, 2012
Vancouver Housing Market
"Although April sales were below what's typical for the month, we continue to see…a balanced relationship between buyer demand and seller supply" – Eugen Klein, REBGV President
Vancouver, Canada's most expensive city to purchase a house saw a major drop in home sales activity this April. According to MLS numbers, total sales dropped 13.2% year-over-year. The number of sales for the Greater Vancouver Region was the lowest monthly total since 2001 and 17% below the 10-year average. Residential home prices have climbed 3.7% (year-over-year) to $683,800.*
Due to the sky-high prices for detached homes, a large majority of Vancouverites seek condo buildings as living options because they represent the most affordable choice for home buyers.
Persistent low mortgage rates in Vancouver have made it possible for home buyers to get cheap mortgage financing.
Collateral Charge Mortgages
Many Canadian mortgage brokers will be discussing collateral charge mortgages and what they mean to the market in an upcoming Mortgage Summit. An important issue lies with lender disclosure. Banks such as TD and ING Direct register all their mortgages as collateral charges which can be problematic since a majority of mortgage consumers aren't aware of the differences between collateral and traditional mortgages. There is a benefit however, as collateral charge mortgages make borrowing future equity in your home very easy. Although, it hinders a mortgage owner's ability to secure a second mortgage against their property since the collateral charge is registered as 125% of the value. It also makes changing lenders during renewal very difficult for the home owner. The Mortgage Summit will take place May 31 to June 1 and will be attended by over 300 brokers, lenders and financial planners.
Where are Canada Mortgage Rates this week?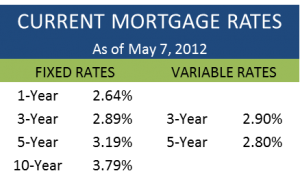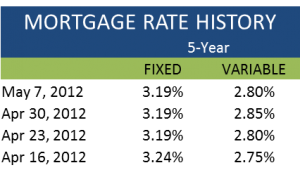 A 5-year history of weekly 5-year fixed mortgage rates and 5-year variable mortgage rates
Canadian Mortgage Rates 2012
Note:  This is simply a small sample size and does not represent the entire market. It does, however, offer some useful insight.
——————————————————————————————————————–
*numbers from REBGV