Monday Mortgage Update: March 19, 2012
By Monday of last week, every major bank in Canada was engaged in a mortgage pricing war, each offering a 2.99% fixed mortgage rate at either a 4 or 5-year term.
How long will the banks maintain these discounts? Based on where Government of Canada (GoC )benchmark bond yields finished last week – the banks might not be able to afford these discounts for much longer. The GoC bond yields drive mortgage rates for the corresponding term. For example, 5-year GoC bond yields drive 5-year fixed mortgage rates. Last week, the 5-year bond yield finished 21 basis points (or 0.21%) higher by the end of the week, which is a sizeable increase. The higher the GoC bond yields climb – the more the banks' profit margins shrink, if banks do not increase their rates.
The 10-year GoC bond yields finished the week 25 basis points higher, which may push lender 10-year mortgage rates higher. Currently, the lowest 10-year fixed rate on Ratehub.ca is 3.79% which will likely increase if bond yields continue to rise.
The housing market usually sees an increase in activity by the time spring starts knocking on the door which means the activity in mortgage market will also see a boost.

Where are Canada Mortgage Rates this week?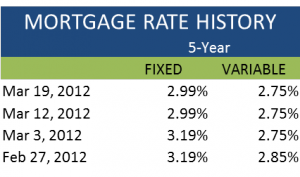 A 5-year history of weekly 5-year fixed mortgage rates and 5-year variable mortgage rates
Canadian Mortgage Rates 2012
5-year Terms: Fixed rates have hit sub-3.0% territory twice this year already. 5-year bond yields have been trending upwards over the last two weeks so now may be the best time to take advantage of the current low mortgage rate environment. Variable rates have been consistent in 2012 hovering between 2.75% (Prime-0.25) and 2.85% (Prime-0.15).
Note:  This is simply a small sample size and does not represent the entire market. It does, however, offer some useful insight.