Lenders are once again aggressively competing for your mortgage business. When BMO re-launched their low-frill 2.99% 5-year fixed rate last week, many banks countered with their own 2.99% mortgage rate in the 4-year fixed category. The best 4-year fixed mortgage rate on Ratehub.ca is currently 2.89%.
And things continue to get better for Canadian consumers as the federal government announced a few measures to make mortgage banking more transparent. Financial institutions must make their mortgage prepayment penalties easier to understand for their clients. The Canadian Bankers Association worked closely with the federal government to develop 'the Code'; the measures by which banks will disclose how actual mortgage prepayment penalties are calculated. In addition, banks must also provide online mortgage penalty calculators and show customers how they can pay off their mortgage quicker without incurring prepayment charges every year. [1]
Unfortunately, the new mortgage regulations will not standardize how banks calculate their mortgage prepayment penalty.
There is greater incentive now for consumers to break their mortgage than ever, since mortgage rates in Canada have been hovering at historic lows.

Where are Current Mortgage Rates this week?
A 5-year history of weekly 5-year fixed mortgage rates and 5-year variable mortgage rates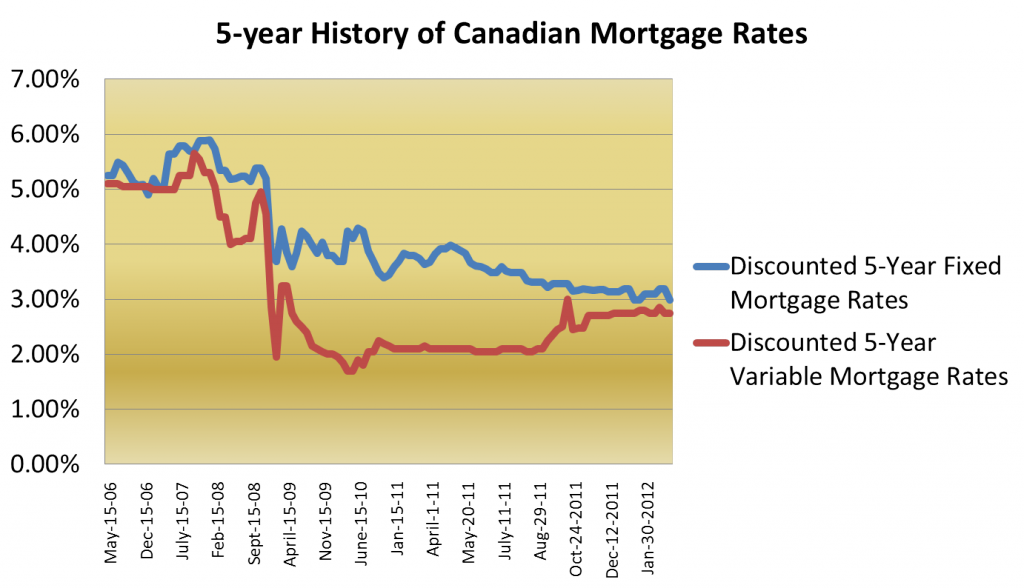 Canadian Mortgage Rates 2012
We are only three months into the year, but we've already seen two separate mortgage wars from lenders to gain more market share. Over the past week, many lenders have lowered their fixed rates in response to the Big Five banks. We advise you to examine each mortgage product carefully because even though the rate is favourable, the features may not be.
________________________________________________________________________
[1]
The Canadian Bankers Association