Government of Canada bond yields
Last week, Government of Canada (GoC) benchmark bonds plunged markedly across the 2-year, 5-year, 7-year, and 10-year bond yields. Tracking bond yields is important because they help drive fixed mortgage rates. For example, an increase in 10-year GoC bond yields will likely cause an increase in 10-year fixed rates.
*data pulled for the Bank of Canada
According to the Financial Post, another round of mortgage wars could be on the horizon. [1] All eyes will be on 10-year fixed rates as the 10-year bond hit a record low of 1.62% on Friday. Last week's Monday Mortgage Update pointed out falling 10-year GoC bond yields, which hit a-then record low of 1.80%. Currently, the 10-year fixed rate on Ratehub.ca has been hovering at a relatively low 3.79% for a most of 2012. Now that the 10-year bond yield has dropped 43 basis points or 0.43% since the beginning of May, it is likely that lenders could start discounting the 10-year fixed rate even further.
The 5-year Government of Canada bond yield has also been tumbling since May 1st, where it has fallen 54 basis points or 0.54%, from 1.60% to 1.06% as of last Friday. Earlier this year, aggressive 5-year interest rate pricing by the big banks spurred two separate, but short-lived mortgage wars. Now that the 5-year bond is sitting at its lowest point in more than a decade, the 5-year fixed rate could return to the 2.99% that started the pricing war amongst lenders. [2]
However, there are two important factors lenders will seriously consider before dropping interest rates to record lows for a third time this year:
1)      The 5-year fixed rate at 2.99% drew heavy criticism, especially from the Bank of Canada Governor Mark Carney and Finance Minister Jim Flaherty
2)      Offering a 5-year fixed rate below 3.00% eats considerably into bank profit margins. According to a statement released by BMO, "housing market activity has softened in most regions and mortgage growth is showing tentative signs of slowing." The expectation that both markets will slow over the course of the year may cause banks to reconsider further rate cuts. [3]
The ingredients for another mortgage pricing war are present. According to an unnamed analyst, "with yields where they are banks can absolutely afford to cut mortgage rates again." However, pressure from Ottawa on lenders could hold off of another mortgage war. Stay tuned.

Where are Canada Mortgage Rates this week?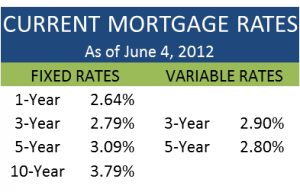 A history of weekly 5-year fixed mortgage rates and 5-year variable mortgage rates
Canadian Mortgage Rates 2012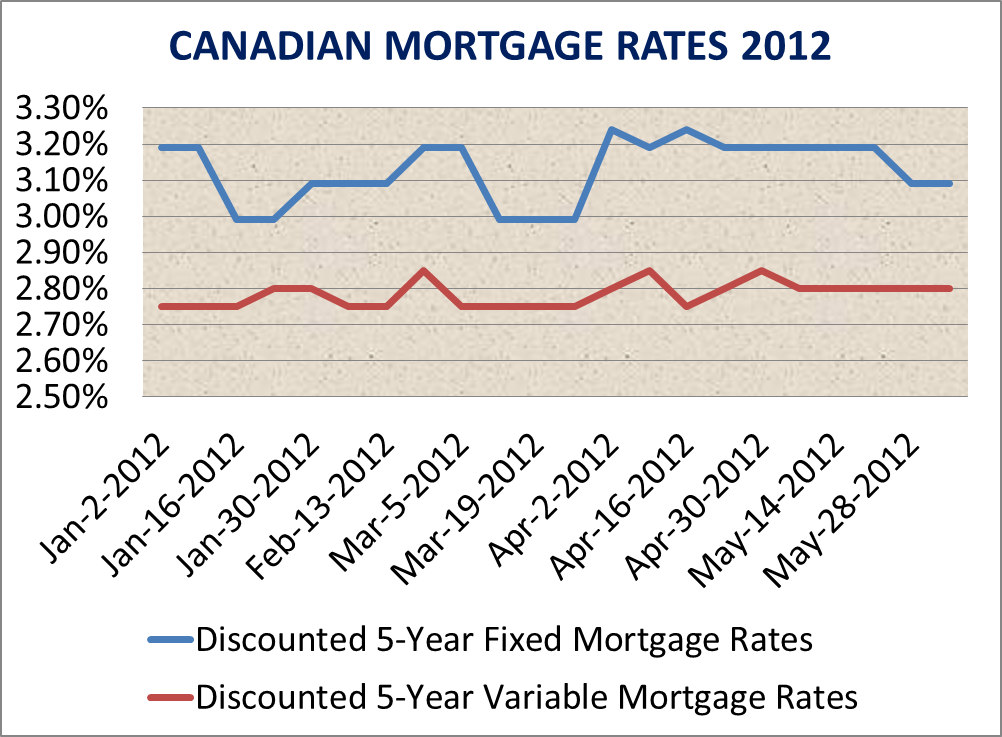 Note:  This is simply a small sample size and does not represent the entire market. It does, however, offer some useful insight.
 ——————————————————————————————————————–
Source:
[1]
Financial Post
[2]
Bank of Canada
[3]
Canadian Business