Mortgage Rate Recap
Tracking Government of Canada bond yields are important because they influence fixed mortgage rates. For example, 2-year fixed rates are driven by 2-year bond yields. If the 2-year bond yield increases by 10 basis points or 0.10%, the 2-year fixed mortgage rate is likely to follow. Last week, Scotiabank dropped their 2-year fixed rate by a considerable amount (see chart below). Typically, the big banks tend to focus on pushing their 5-year fixed rate; however Scotiabank is largely the only bank that has shown an inclination to promote the 2-year fixed rate. Earlier this year, Scotia's 2-year fixed rate dropped as low as 2.79%. Currently, it is available for a much lower 2.69%. Below is a recap of how other mortgage rates from some of Canada's biggest lenders changed this past week.
Why the drastic rate reduction from Scotiabank? If examine how 2-year Government of Canada bond yields have been trending, you'll notice that the yields have been falling for a number of weeks since late April of this year. Scotiabank is the first major lender to reduce their 2-year fixed rate in response, however, it is likely that some of Canada's other major lenders won't be too far behind with a similar reaction.
*graph sourced from the Bank of Canada

Where are Canada Mortgage Rates this week?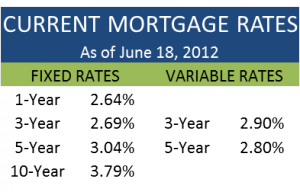 A history of weekly 5-year fixed mortgage rates and 5-year variable mortgage rates
Canadian Mortgage Rates 2012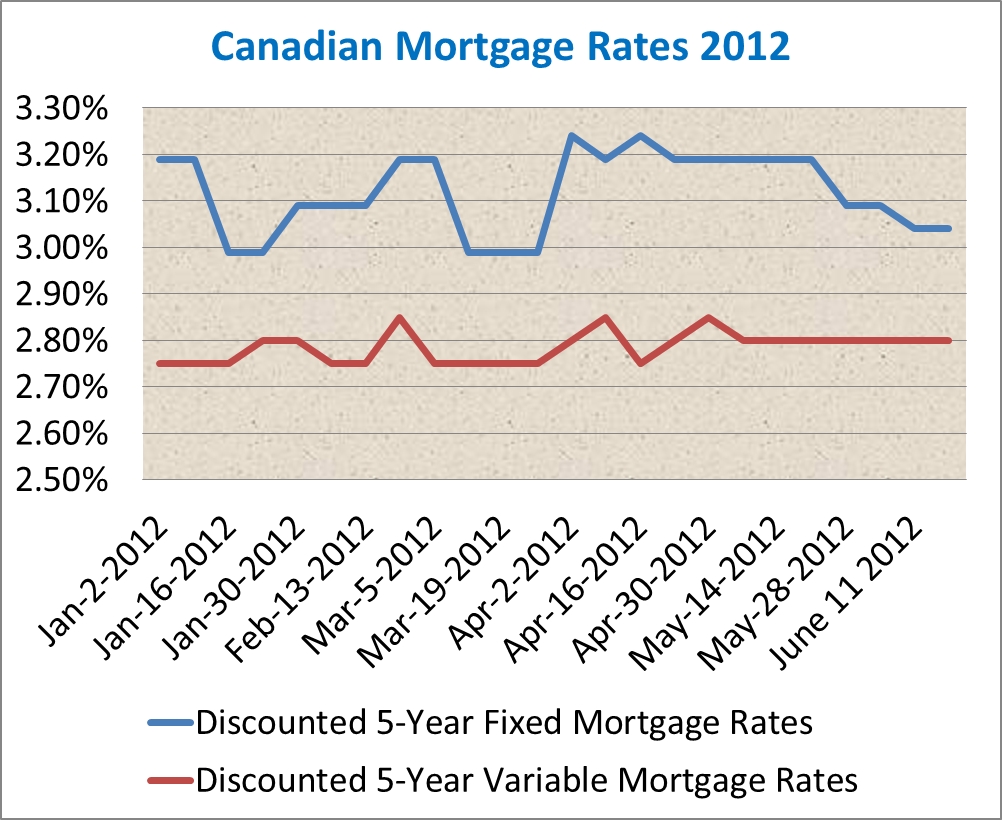 Note:  This is simply a small sample size and does not represent the entire market. It does, however, offer some useful insight.