Fixed Rates
5-year Government of Canada (GoC) bonds finished last week at 1.29%, up 23 basis points (0.23%) from two Fridays ago, where they were sitting at a record Canadian low. Overall, 5-year bonds are still at historic lows. We have seen a few lenders to drop their respective 5-year fixed rate over the past few days. The lowest available 5-year fixed rate on Ratehub.ca is now 3.04%.
New Mortgage Rules
Major news emerged last week as OFSI backed down on a couple of proposals designed to tighten mortgage underwriting. The first proposal would have required borrowers to re-qualify each time they renewed their mortgage. Currently, lenders focus on the borrower's payment history. OFSI agreed that this approach is effective and will remain in place.
The second proposal that was dismissed would have had banks amortize home equity lines of credit (HELOC). In other words, borrowers would have been expected to pay back the loans taken from their home equity over a set period of time.

Where are Canada Mortgage Rates this week?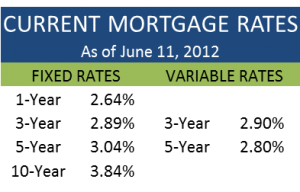 A history of weekly 5-year fixed mortgage rates and 5-year variable mortgage rates
Canadian Mortgage Rates 2012
Note:  This is simply a small sample size and does not represent the entire market. It does, however, offer some useful insight.