Mortgage Rules in Canada
The new mortgage rules announced on June 21st by Jim Flaherty take effect today. However, some lenders stopped taking pre-approvals for the old mortgage parameters last Thursday and Friday. Talk to your mortgage provider or broker to learn more about your situation.
With the new rules in place, it is likely that mortgage rates in Canada will continue to stay low for an extended period of time. According to a BMO report, they believe the Bank of Canada interest rate will hold steady until July 2013. BMO's senior economist Michael Gregory says, "the tightening of the government's mortgage insurance rules does serve to act like higher interest rates specifically for that sector…so that takes some of the urgency away from the Bank of Canada to adjust rates any time soon." [1]
Overnight Rate Forecast
Currently the target for the overnight rate, which is set by the Bank of Canada, is at 1.00%, where it has been since September of 2010. Variable mortgage rates are influenced by how the overnight rate moves. Below you will find the latest bank forecasts of when there will be a Bank of Canada interest rate hike and by how much. Three of the four banks predicted the overnight rate would hit 1.50%, an increase of 0.50% from today's rate, by the end of 2013.
The Overnight Rate Predictions:
Larger Mortgage Broker Channel
A new proposed federal legislation, if passed, could increase the mortgage broker channel. The new bill would allow provincial credit unions to become federal entities that could accept country-wide deals. In other words, the bill would pave the way for cross-provincial expansion of regional credit unions. However, this new bill will be a positive for brokers as credit unions traditionally use mortgage brokers to break into new markets.
Meridian, the country's fourth largest credit union did approximately $300 million worth of business with mortgage brokers in 2011.
The legislation would deem federal credit unions 'banks' that conduct business on a co-operative basis under the Bank Act. [2]

Where are Canada Mortgage Rates this week?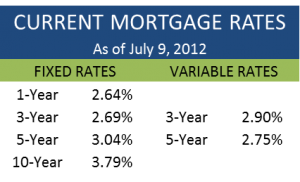 A history of weekly 5-year fixed mortgage rates and 5-year variable mortgage rates
Canadian Mortgage Rates 2012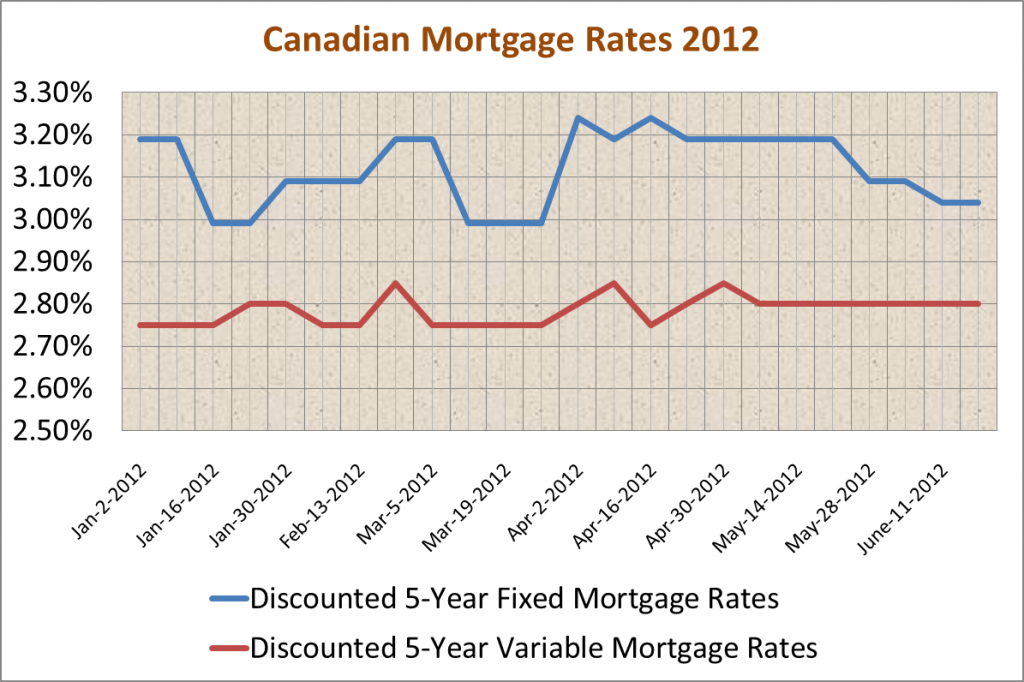 Note:  This is simply a small sample size and does not represent the entire market. It does, however, offer some useful insight.
——————————————————————————————————————-
[2]Scotiabank overnight rate forecast
[3] BMO overnight rate forecast
[4] TD overnight rate forecast
Also read: