Monday Mortgage Update: January 23, 2012
The Monday Mortgage Update is a little late this week, but there was a lot of news to report from the Canadian mortgage industry and the instruments that influence it.
Bank of Canada
As reported last week, the Bank of Canada interest rate remained unchanged at 1.00%. There was some interesting take aways from the BoC Governor Mark Carney last week. According to the Bank of Canada, they expect the Canadian economy to return to full capacity in the third quarter of 2013. The central bank's call for a healthy return is a full quarter earlier than originally forecasted, despite their new grim outlook for the global economies of the world. Mark Carney stated that the outlook has actually deteriorated while uncertainty has grown. The BoC Governor also maintained his stance that the current high levels of Canadian debt present a risk to the economy.
So why does Mark Carney believe the outlook for Canada's economy has improved since the last forecast? Even in the face of worsening global economic growth and high levels of Canadian debt? According to the Toronto Star, Carney said "while this headwind is expected to persist in coming quarters, other fundamentals supporting business investment in Canada remain extremely favourable including low borrowing costs…Canadian business balance sheets are in their best shape in living memory." The tone of the central bank's announcement suggests that interest rates are likely to remain low to continue to spur economic activity, with no Bank of Canada interest rate hike on the horizon.
Canada's Minister of Finance Jim Flaherty said the government has been watching the housing market very carefully. He added that home sales have been softening as of late, but are prepared to intervene if necessary.
Government of Canada Bond Yields
The movement of Government of Canada (GoC) bond yields drive fixed mortgage rates in Canada and over the past couple of months, the bond yields have been trending downward – until last week. Both the 5-year and 10-year GoC bond yield finished 14 basis points higher by last Friday. The 5 and 10-year bond yields are important to watch because of their influence on 5 and 10-year fixed rates which lenders are offering at huge discounts. If these bond yields continue to rise, these discounts will start to disappear.
Mortgage Rate Wars
Typically, the first few months of the year are a slow period in the mortgage industry. In an effort to attract more consumers and increase market share, many of Canada's lenders have resorted to ultra-low mortgage rates. Both the 4-year fixed rate and the 5-year fixed rate are at 2.99%, down 20 basis points from two weeks ago. Also making a lot of noise was ING Direct's decision to offer the lowest 10-year fixed rate in Canadian history at 3.99% (more on that below).
Where are Current Mortgage Rates this week?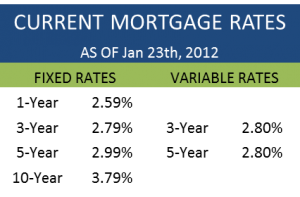 A history of discounted weekly 5-year fixed mortgage rates and 5-year variable mortgage rates
What mortgage products are Canadians buying?
With lenders driving fixed rates lower and lower, the advantage of the variable rate is diminishing. Fixed rates are dropping while variable rates stay put casuing the spread to shrink.
Since ING Direct announced the best 10-year fixed rate in Canadian history, other lenders started following suit, causing the 10-year mortgage to take over as the most popular mortgage product on Ratehub.ca. This represented one-third of consumer interest last week.
Note:  This is simply a small sample size and does not represent the entire market. It does, however, offer some useful insight.
Also read: