Canadian Debt Repayment
An article from the Globe and Mail last week revealed that the percentage of Canadians that are 90+ days past due on their mortgage is actually quite low. Using data from the Canadian Bankers Association (CBA), the actual percentage of mortgages in arrears is only 0.38%. This should be viewed as calming news for the housing bubble alarmists. At the height of the American housing crisis, the amount of adjustable-rate mortgages (ARMs) that were 90-days delinquent reached as high as 25% by May 2008.
The Bank of Canada Winter Review
An important document from the Bank of Canada (BoC), called the "Household Finances and Financial Stability" report was released last week. This report examined the steady increase of Canadian household debt over the past few years and the rise of Canadian house prices since 2000. Here are some notable insights taken from the report:
Lending Practices: The U.S. housing crisis was dramatically influenced by lighter lending practices such as relaxed mortgage underwriting standards that allowed riskier home buyers to enter the market, as well as new methods that made borrowing backed by home equity, much easier. Currently, Ottawa is considering tightening the mortgage rules for the fourth time in as many years to protect the Canadian economy to avoid a similar path.
Mortgage Debt: The most indebted age group in the nation is Canadians in their 30s, with the 31 to 35 year olds taking the top spot, followed by individuals aged 36 to 40. A low mortgage rate environment has led to strong growth in mortgage debt among Canadians of all ages. Most of the rise in consumer credit can be attributed to an increase in people using their homes for collateral, which have been trending upwards in value, to access more funds.
Where are Current Mortgage Rates this week?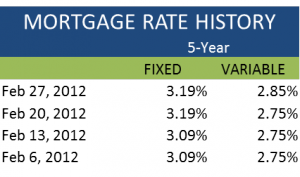 A 5-year history of weekly 5-year fixed mortgage rates and 5-year variable mortgage rates
Canadian Mortgage Rates 2012
There hasn't been much activity from lenders since the mortgage pricing wars a few weeks ago. Over the past two weeks, the only mortgage rate activity we saw from a major lender came from PC Financial and ING Direct on their discounted 5-year fixed rates. PC Financial hiked its 5-year fixed rate from 3.39% to 3.44% (5 basis points), while ING Direct chose to raise the same rate by 15 basis points, from 3.34% to 3.49%.