Monday Mortgage Update: February 13, 2012
"The rates coming down were in response to a very aggressive move by a competitor and a need for us to defend our client base, and to defend our business. We didn't lead it there, but we felt compelled to follow," – David McKay, RBC via Globe and Mail
The recent mortgage pricing wars among Canada's biggest banks have come to a close. Last week, the ultra-low 2.99% 4-year fixed rates offered by TD, CIBC, Scotiabank, and RBC, disappeared. As of February 13th, three of those big lenders raised their 4-year fixed rate by 40 basis points, to 3.39% [TD, CIBC, and RBC]. Scotiabank, on the other hand, chose to increase their 4-year fixed rate to 4.39%, which represents an astounding 140 basis point hike. Although their 4-year offer isn't as attractive, Scotiabank chose to focus on 3-year fixed rates instead, offering a highly competitive 2.79%.
The mortgage wars were started initially by BMO, whose aggressive 2.99% 5-year fixed rate mortgage was an attempt to lure more consumers during a slow period in the mortgage industry (the months following Christmas). The other Big Five banks responded with their own big discount offers in an effort to not lose market share.
5-year Government of Canada bond yields rose higher last week (up 8 basis points) as it has for the past couple of weeks, so it seems unlikely that we'll see 5-year fixed rates return to the sub-three per cent territory in the foreseeable future.
Condo Market
Canada's government is keeping a keen eye on its super-heated condo market. With worries of a housing burst, especially in condo-centric markets like Toronto and Vancouver, Ottawa is considering tightening the mortgage rules for condominium buyers. Last Wednesday, TD Bank CEO, Ed Clark spoke to Bloomberg in New York City and confirmed that borrowing may get tougher for those looking to borrow money for a condo purchase. Mr. Clark said, "Banks are leaning against [ultra-low interest rate financing] in the condo market right now and leaning against it in the unsecured lending market". He believes this will lead to a "successful soft landing" for the Canadian housing market. [1]
Where are Current Mortgage Rates this week?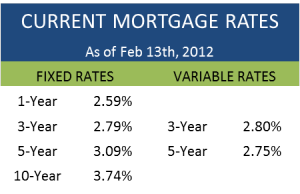 A history of weekly 5-year fixed mortgage rates and 5-year variable mortgage rates
What mortgage products are Canadians buying?
The trend of consumer interest in 10-year fixed rates continues into February. The best rate still stands at 3.74%. Despite Canada's five biggest banks removing their big fixed rate discounts last week, plenty of consumer interest persisted among 3 to 5 year fixed rates.
Variable rates which made up 17% of market interest last week has fallen considerably since late last year. Back on October 3, 2011, variable rate represented close to half (41%) of consumer interest. The advantage of the variable rate has greatly diminished since that time.
Note:  This is simply a small sample size and does not represent the entire market. It does, however, offer some useful insight.
[1]
The San Francisco Chronicle