Good news may be on the way for mortgage-rate shoppers. Several Government of Canada (GoC) bond yields, which drive fixed mortgage rates, dropped at the end of last week. It was a relatively minor drop, but the 2-year, 3-year, and 5-year GoC bonds dropped 7, 8, and 6 basis points respectively. A drop in GoC bond yields usually indicates a corresponding drop in mortgage rates, however, with banks looking to maximize end of year profits, interest rates may stagnate over the next few weeks.
Though most major Canadian banks have not lowered their published mortgage rates, today ING Direct dropped their 5-year fixed rate by 5 basis points from 3.64% to 3.59%; their 7-year fixed rate by an astounding 50 basis points from 4.49% to 3.99%; and their 10-year rate by 30 basis points from 4.79% to 4.49%. The ING 7-year fixed mortgage rate is now the lowest 7-year interest rate on Ratehub.ca.
Over the past three months we have seen significant increases in variable mortgage rates. For example, in late August, a 5-year variable mortgage rate could be found for as low as 2.05% and 2.50% in early October. Today, the lowest 5-year variable rate on Ratehub.ca is 2.70% and four of the Big Five Canadian banks offer their 5-year variable rate at a 3.10%. As economic conditions are keeping prime rate at 3.00% for the foreseeable future, banks have been suppressing their discounts to prime, and thus forcing customers into higher margin fixed products.
Current Mortgage Rates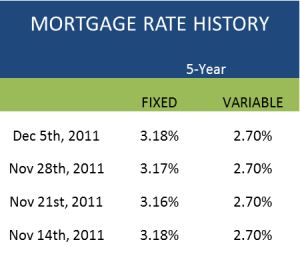 Discounted weekly 5-year fixed mortgage rates and 5-year variable mortgage rates from January 2011 to the present.
Discounted weekly 5-year fixed mortgage rates and 5-year variable mortgage rates over the past five years.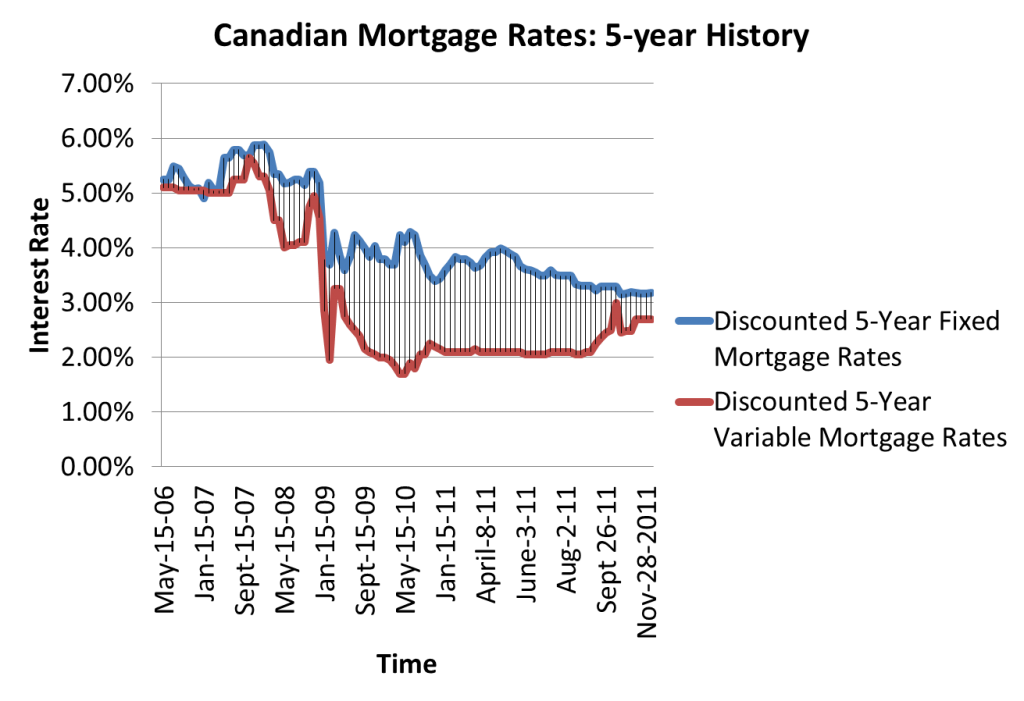 What mortgage products are Canadians buying?
Last week, mortgage application data compiled through Ratehub.ca continued to show the 5-year fixed product regaining its historical popularity. Though the 5-year variable mortgage was very popular in 2011, as their rates increased and the spread between it and the 5-year fixed mortgage rate shrank, consumers began opting for the more predictable fixed mortgage product.
Note:  This is simply a small sample size and does not represent the entire market. It does, however, offer some useful insight.