Monday Mortgage Update: December 12, 2011
"Barring a recession, don't expect [interest rates] to go any lower." –TD Economics
Since the it was announced that the Bank of Canada interest rate would remain at 1.0% last week, most lenders did not move their mortgage rates, as they were (and still are), hovering at historic lows. According to TD's report:
"With the target interest rate near historic lows and the financial system functioning well, there is considerable monetary policy stimulus in Canada"
In other words, rates will remain low, but don't expect them to be cut any further. TD Economists, for one, believes the Bank of Canada will leave interest rates unchanged for all of 2012 before a Bank of Canada interest rate hike in the first quarter of 2013, which was a different view expressed by our "Ask the Expert" interview with Professor John Andrew last week. Prof. John Andrew believes the Bank of Canada will likely raise the key interest rate early next year.
Even though the prime rate, the basis for variable mortgage rates, may stay flat, it is still possible we will see lenders increase their premium on prime to match their profit objectives. For example, last week CIBC moved their 5-year variable rate to 3.10% or prime +0.10%. The rest of the "Big Five" banks (TD, Scotia, BMO, RBC) already have their 5-year variable interest rates at that mark.
Last week was filled with announcements as the Bank of Canada released its winter Financial System Review a few days after their interest rate announcement. The report stated that European risk remains elevated even though Canada's financial system is doing relatively well. The situation in Europe will continue to affect Canadian financial institutions, although they are not as vulnerable as perceived.
Government of Canada benchmark [3-year, 5-year, and 10-year] bond yields dipped last Thursday before rebounding to finish near the same level they started the week at. The 3-year and 5-year bond yields finished exactly the same, whereas the 10 year bond yields finished only 3 basis points lower. Ratehub.ca saw fixed rates drop marginally, particularly the 5-year fixed rate which now sits at 3.14% compared to 3.18% last week.
Current Mortgage Rates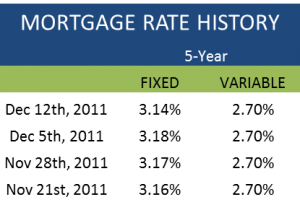 Discounted weekly 5-year fixed mortgage rates and 5-year variable mortgage rates from January 2011 to the present.
Discounted weekly 5-year fixed mortgage rates and 5-year variable mortgage rates over the past five years.
What mortgage products are Canadians buying?
Much of consumer interest on Ratehub.ca persisted in the same manner as last week. The 5-year fixed and 5-year variable mortgage remain most popular. 2-year fixed rate mortgages also continued to draw considerable interest. Currently, the best 2-year fixed rate is 2.59%.
Note:  This is simply a small sample size and does not represent the entire market. It does, however, offer some useful insight.
Also read: