---
Interest rates likely to remain low until 2013
David LaRock, a Toronto mortgage broker, believes that mortgage rates won't experience increases until 2013 due to a number of factors that are contributing to the consensus view. [1]
Our second quarter (Q2) gross-domestic-product (GDP) grew by only 1.80 per cent, which was well below the Bank of Canada's (BoC) forecast of 2.50 per cent. Mark Carney, governor of the Bank of Canada also acknowledged that their projections for GDP growth in the US, China, Europe, and Japan are lower than their initial forecasts. Many international economies are underperforming and when combined with Canada's lower-than-expected GDP growth, should keep the central bank wary of raising rates in the near future.
The US federal funds target rate, which function like Canada's overnight target rate, is currently at 0.0 per cent and will likely stay there until mid-2013. By comparison, Canada's overnight rate is currently 1.0 per cent. Notice the disparity between rates? Although Canada has an independent monetary policy from our neighbours to the South, if the rate gap widens too much, so too will the difference in our exchange rate. And a strong Loonie actually hinders economic momentum because it raises the cost of Canadian exports, making the prospect of higher interest rates less likely.
Canadian unemployment is still above 7.0 per cent, while average income growth is barely keeping pace with inflation. Canada would need to see more consistent job and income growth before Mark Carney raises rates.
Canadians are making their debt payments
Good news has emerged from the Canadian Bankers Association, the number of Canadians behind on their mortgage payments declined from January to May of this year, from 0.38 per cent to 0.34 per cent. By comparison, 11.8 per cent of Americans were at least 30 days past due or in foreclosure by the end of March 2012, according to the Mortgage Bankers Association.
The number of debts written off by Canadian credit card companies also fell, from 4.6 per cent in May, down to 4.1 per cent in June. [2]
Mortgage Rate Recap
Last week, 5-year Government of Canada bond yields rose significantly, jumping from 1.38 per cent to 1.50 per cent ING was the first major bank to respond by raising their 5-year fixed rate from 3.09 per cent to 3.19 per cent There is a strong possibility that other lenders will react with rate increases to their 5-year fixed rates in the near future. Currently, the best 5-year mortgage rate available is 2.99 per cent
| | | | |
| --- | --- | --- | --- |
| RATE TYPE | PREVIOUS RATE | CURRENT RATE | CHANGE IN BASIS POINTS |
| 5-year fixed | 3.09% | 3.19% | Increase of 10 bps |

Where are Canada Mortgage Rates this week?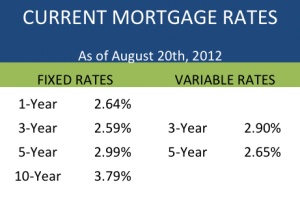 A history of weekly 5-year fixed mortgage rates and 5-year variable mortgage rates
Canadian Mortgage Rates in 2012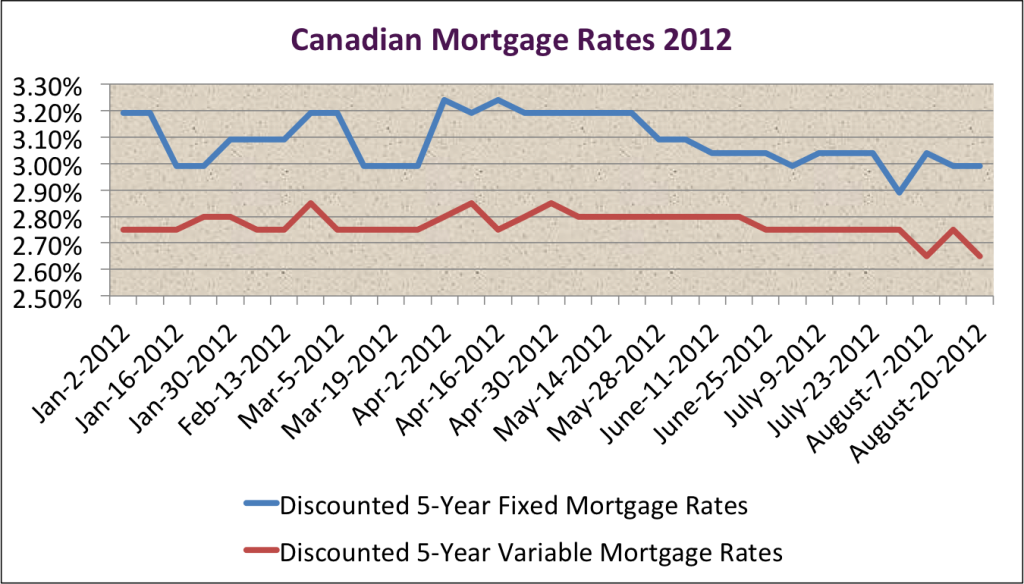 The average discounted mortgage rate in Canada for 2012: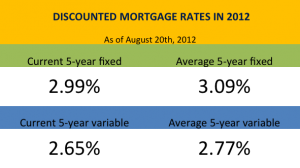 Note:  This is simply a small sample size and does not represent the entire market. It does, however, offer some useful insight.
Sources:
[1] Movesmartly
[2] The Canadian Bankers Association
---