Monday Mortgage Update: May 28, 2012
5-year fixed rates
Last week, four of Canada's biggest lenders (BMO, TD, RBC and Laurentian Bank) lowered their 5-year fixed rates by 10 basis points (bps) or 0.10%. Typically, when one of the bigger lenders makes a move on rates, the rest usually follow suit. It's likely that we will see CIBC, Scotiabank and National Bank make similar rate reductions on their 5-year fixed rates later this week.
Here is a chart displaying where the aforementioned banks stand with their 5-year fixed rates.
10-year fixed rates
Fixed rates are driven by Government of Canada bond yields, so lower bond yields usually translate into lower fixed rates. Earlier this year, 10-year fixed rates hit a record low of 3.79% on Ratehub.ca, where they currently stay. At the end of last week, however, 10-year Government of Canada (GoC) bond yields dropped by 11 basis points (or 0.11%) and hit an all-time low of 1.80%. The question on everyone's mind is: Will 10-year fixed rates drop even further in the near future? [1]
Interest rates outlook
According to Genworth, Canada's second largest mortgage default provider, there will likely not be another Bank of Canada interest rate hike for another year. Any effort to raise the Bank of Canada interest rate in Canada before the US Federal Reserve does, will place upward pressure on the Canadian dollar – something the central bank wants to avoid. Genworth is forecasting the prime rate will increase to 3.30% by 2013. The current prime rate, which drives variable mortgage rates, has been at 3.00% since late 2010.[2]

Where are Canada Mortgage Rates this week?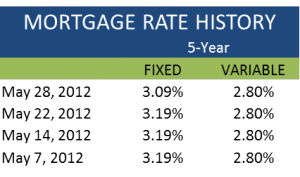 A history of weekly 5-year fixed mortgage rates and 5-year variable mortgage rates
Canadian Mortgage Rates 2012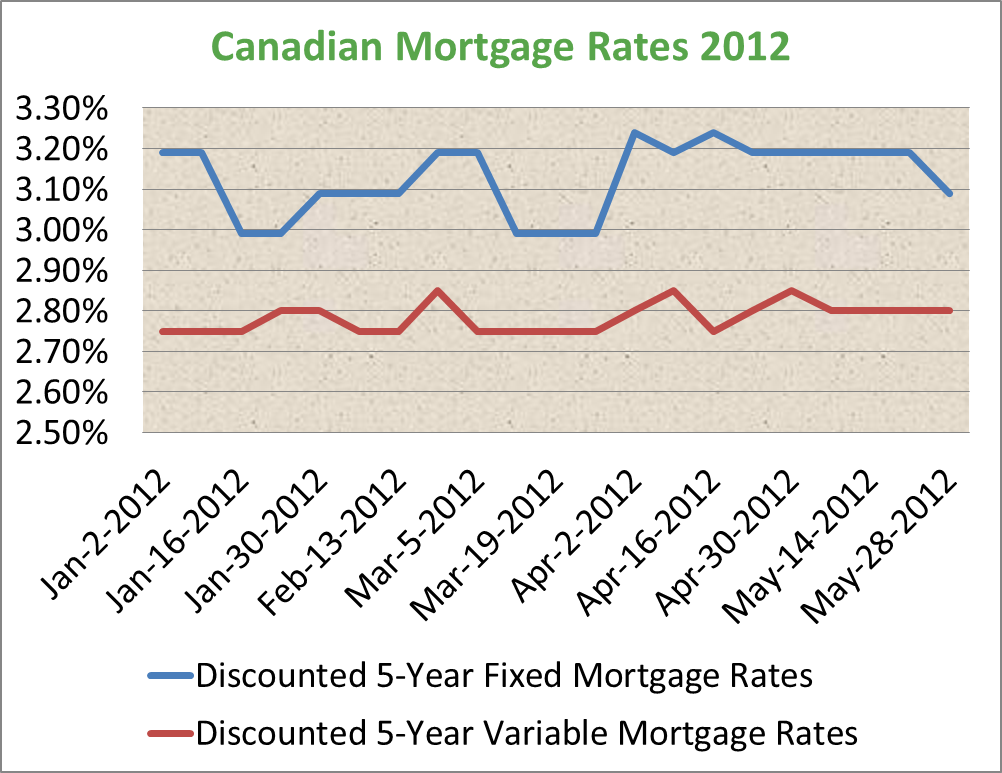 Note:  This is simply a small sample size and does not represent the entire market. It does, however, offer some useful insight.
 ——————————————————————————————————————–
Source:
[1] Bank of Canada
[2] Genworth Mortgage Insurance Canada
Also read: 
Overnight Lending Rate in Canada