Flickr: www.planetofsuccess.com/blog/
If you're a real estate industry professional – realtor, mortgage broker, lawyer or otherwise – you're going to love our two latest calculator widgets. You'll love them because 1) we've collected all of the region-specific information you need for accurate calculations and 2) the calculators can be embedded on your website with a simple copy and paste. Website users find them easy to use and we think you're clients will too.
Land Transfer Tax Calculator
The first is a Land Transfer Tax Calculator. It works for all provinces and cities in Canada, so you could call it a "property transfer tax calculator" if you lived in BC or a "land title transfer fee calculator" if you were a prairie kid. It also works for big city folk too, because it calculates both provincial and municipal (applicable only in Toronto) land transfer taxes when necessary. Here's what the calculator looks like when it's calculating the land transfer tax for a first-time homebuyer's purchase of a $300,000 condo in Toronto.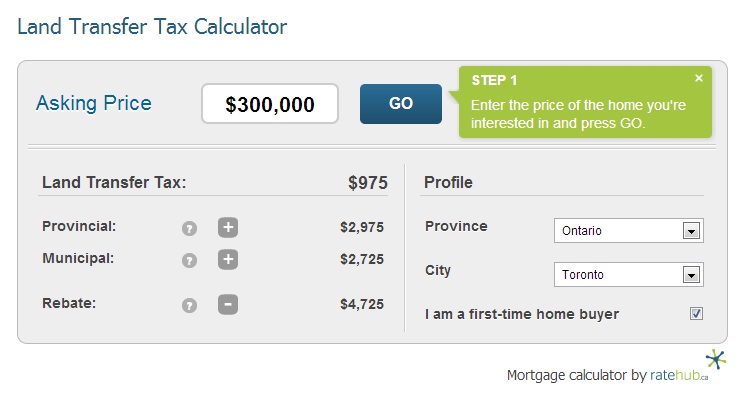 CMHC Insurance Calculator
Our new CMHC Insurance Calculator is just as easy to use. It simply calculates the cost of your mortgage insurance premium as it changes with your down payment percentage – only up to a 20% down payment, of course, after which CMHC insurance is no longer required. Remind your clients that their premium is added to their mortgage loan, so it's not cash they need to have upfront! But they will be paying it off over the life of their mortgage, and this widget is great for curtailing the deer-in-headlights look that some people get when signing a mountain of paperwork. In the example below, we used a $500,000 asking price and chose a 25-year amortization period.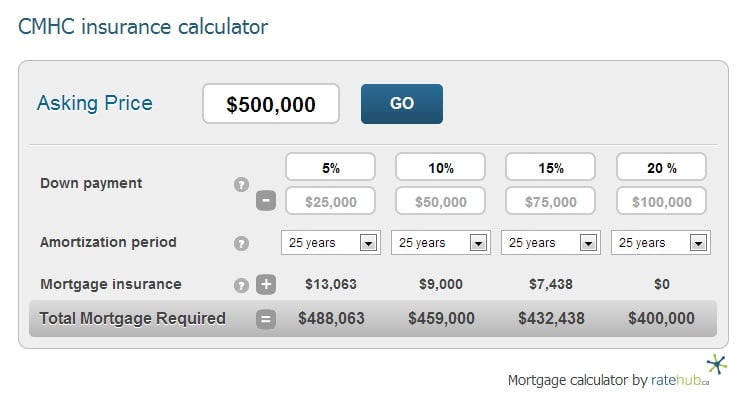 How Do You Get Them?
If you think these widgets would help your clients, follow these four easy steps to add them to your site:
Click on the links to be directed to each widget's page.
Once there, select the calculator width that best fits your site.
Pick your province (this allows your province to be preloaded into the calculator's dropdown list).
Finally, copy the HTML code and paste it onto your site.
Easy as pie! And feel free to look at all of the other widgets available on our website, while you're at it.