When you decide to sell a condo, one of the best investments you can make is to stage it. A recent survey found that staged homes sell 2-3 times faster than non-staged homes, and for an average of 6% more1. Since potential buyers typically see your condo for the first time on MLS, you'll want to make a picture-perfect impression that will have them begging for a viewing. You don't need to hire a professional stager to make this happen, but you should be prepared to put in a little elbow grease – and a few dollars – to help your condo sell.
What are you working with?
Most of the decisions you make around staging your condo will be based on the answer to one question: are you living in it or is it vacant? If you're living in it, staging requirements could be minimal. You may want to put away a few things in storage, such as unnecessary furniture that doesn't complement the space, half of what's on your bookshelves so it doesn't seem cluttered, and any personal pictures so buyers can envision the condo as their own. If the condo is vacant, then you may need to get creative about borrowing or renting furniture and artwork.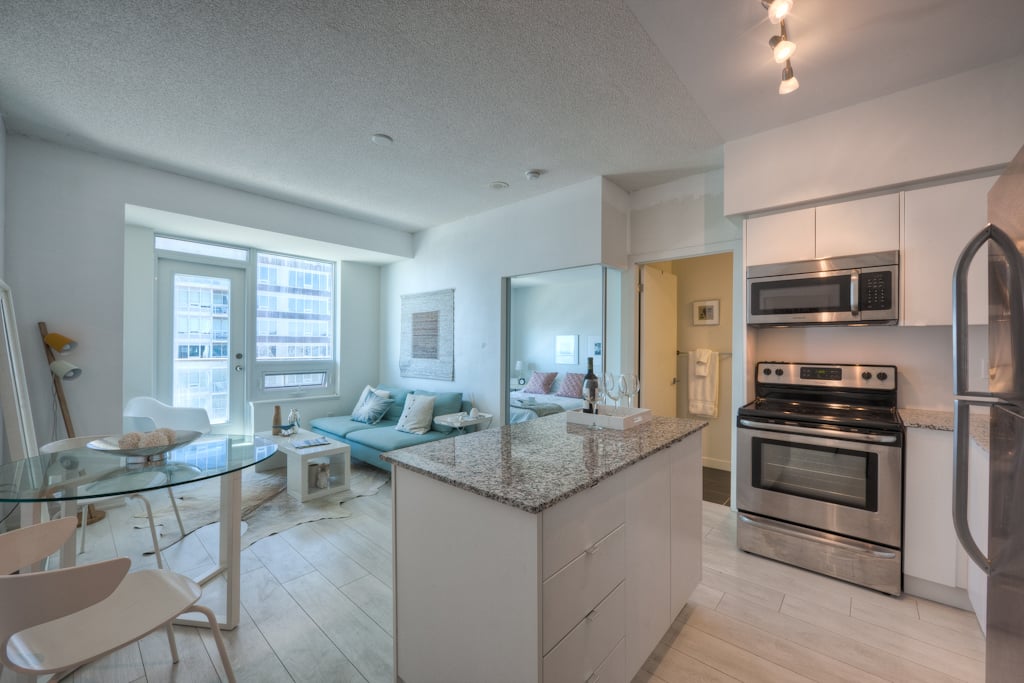 Does the furniture fit?
When it comes to staging, condo owners – even more than house owners – need to be especially careful about the type of furniture they put into their rooms. The scale needs to be perfect – smaller than what you'd put in a house, but not so small that it gives the illusion the condo has limited space. Potential buyers want to see that they can walk around and entertain in your condo. Along the lines of only including pieces that fit-to-scale, the décor in your condo should accent your furniture and make rooms look bigger, not smaller. And you should always stick with neutrals – especially when you slick a new coat of paint on the walls.
Which projects should you tackle?
Finally, if you have a little extra money to spend, there are a few renovation projects you could take on that offer a positive return on investment. From top to bottom, the three things potential buyers are going to look at in your condo are your lighting, countertops and flooring. In a condo, it's not uncommon to find a dark hallway or insufficient lighting in the bathroom or bedroom. Brightening up all rooms is said to offer a 303% return on investment1, as it's the one project that truly highlights your space. And since countertops and flooring tend to show a lot of wear and tear, these are two investments that will make your condo feel newer than it may be. Refacing kitchen cabinets and upgrading the hardware in the kitchen and bathroom are also cheap fixes that can add disproportional value to the sale price.