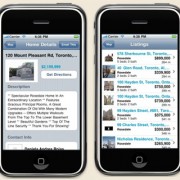 Our trusted real estate lawyer friend Shadi Nasseri is back this week blogging on her favourite real estate apps for iPhone, Blackberry and beyond!
Spring is here, the birds are singing, the sun is shining and home buyers are out hopping from house to house looking for the perfect dwelling. This year, as you drive around your favourite neighbourhoods scouting homes and open-houses, don't forget to bring your Smartphone along. They're not on hand just so you can check-in at various Foursquare locales, or to update your status every step of the way – there are actually numerous amazing and incredibly helpful apps that can make your home search more efficient and enjoyable.
Using real estate apps like Zoocasa and Realtor.ca, with one touch you're be able to see properties for sale around your current location displayed on a Google map. Narrowing your search is fast and easy as these apps allow you to filter by criteria such as price, and number of bedrooms and baths. You can scout through numerous photos of the property before getting out of your car and even contact the listing agent and set up an appointment. One of the best features these apps offer is that you can mark your favourite properties and visit only those that meet your criteria, saving you time and gas.
If you've been out on a home hunt lately you may have noticed square, black and white, two-dimensional codes on real estate signage, called QR codes. Scanning the codes with your Smartphone will lead you to text, a website or a virtual tour related to the listing. These links can be a great source of information which you can save, and return to, as you later recap your day, making paper pushing a thing of the past.
Once you've found a home you love, make sure to check out local businesses, retailers, and amenities within walking distance. Local search applications like Poynt, Yelp and Aroundme will identify exactly where you can get the best cup of coffee or the closest ATM in your new neighbourhood.
WARNING: once you've tried these apps, you may wonder how you ever survived without them!
Plus, keep your eyes out for Ratehub.ca's new mobile mortgage site launching in the coming weeks!
Shadi Nasseri
10 King Street East, Suite 1400
Toronto, Ontario,
Canada M5C 1C3