Here at Ratehub.ca, we're dedicated to providing you the best rates, tools, and calculators to make your home buying experience as painless as possible.  And sometimes, you can learn a lot from the experience of others, which is why we are introducing a series of home buyer profiles.
For our first profile, let's meet Jeff Larcina, a single guy in the city, who through saving and investing at an early age was able to buy his first home this year at the age of twenty-four!
Meet our home buyer                                                                                     

Name: Jeff Larcina
Ages: 24
Occupation: Corporate Finance / Real Estate Consulting
Marital status: Single
Location:  The Toronto beaches neighborhood
The home buying process                                                                              

1.  What made you decide to enter the housing market? What were you looking for?
I wanted to build equity rather than pay rent, and did not like the idea of condo fees on top of a mortgage, so I decided to buy a house. I was looking for something in the downtown-ish area with good access to public transit. The Beaches and Leslieville seemed like good areas for what I was looking for.
2.  Did you have a checklist? Did you distinguish between needs and wants? Any 'odd' requirements?
No formal checklist but I wanted multiple bedrooms to rent out a room or two to friends to help with the mortgage. I also wanted something with recent renovations as I did not want to be doing renovations myself.
3.  Tell us about finding 'the one.' Did you have to compromise?
The only thing I compromised on was that I am on a major street, as opposed to a side street. However, it was difficult, if not impossible, to find a home that met my expectations, while still being within my price range, on a side street.
4.  Did you stay within budget?
Yes.
The hard part: financing    

5.  Did you find the process of financing your home overwhelming? How did you learn?
I did at first – it seemed like car buying.  Rates and pricing changed all the time. I kept hearing about a rate or term that someone else got that sounded great, but could never find it myself. Through coincidence, a friend referred me to his roommate who is a mortgage broker, who helped me out on the process. (James Laird at True North Mortgage, on Ratehub.ca!)
6.  How did you source your down payment? What % of the home value did you put down?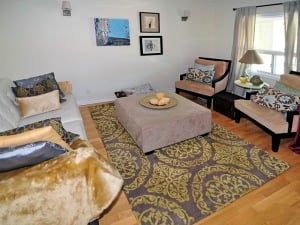 Approximately 25%.  The down payment was sourced through savings and investments.
7.  Were you aware of the $750 first-time home buyer tax credit? Did you use it?
I was not. I haven't filed my taxes yet – maybe I should look into this.
8.  Did you use any other first-time home buyer programs or incentives?
First time homebuyers in Toronto can avoid the land transfer tax.
9.  What mortgage product did you decide on? Did you go fixed or variable?
I went with a variable rate. While I knew interest rates could only go up (from June 2010), the fixed rates at the time were significantly more expensive. I felt the differential was wide enough that, even with increases in the variable rates, I would still come out on top on the five-year term.
Cutting back…or maybe not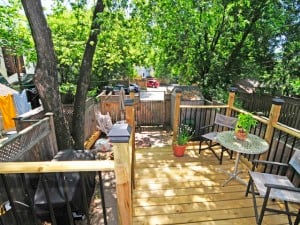 10.  Can you list some of the indulgences you've had to cut back on since taking on a mortgage?
I "should" start to cut back. But to be honest I spend just as much, if not more, compared to pre-home ownership. I've taken 4 big vacations in the past year. I'm starting to realize, it's a bit excessive with a mortgage to pay.
We`d like to thank Jeff for his time and wish him the best of luck in his new Toronto beaches home.