Ratehub.ca is a free service for consumers to compare Canadian mortgage rates. Our rates are sourced from all the major banks and mortgage brokerages in the nation. Ratehub.ca also lets you connect with mortgage brokers and specialists to discuss the mortgage rates that are posted on our comparison page.
We select only the best mortgage professionals to handle your mortgage queries. One such Toronto mortgage broker is Drew Donaldson of Safebridge Financial Group based out of Toronto. Drew supplies some of the best mortgage rates in Ontario in addition to his wide knowledge base.
Name: Drew Donaldson
Brokerage:  Safebridge Financial Group
MEET OUR MORTGAGE SPECIALIST
Q.  What did you do before you were in the mortgage business?
I bartended while playing Division I football at the University of Central Michigan. Working late hours and constantly networking was what I did best.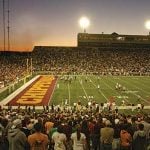 Q.  Fill in the blank. 'If I weren't in the mortgage business, I'd be____________.'
Building various businesses and creating new markets as a serial entrepreneur.
Q.  What first got you interested in the mortgage business and how long have you been in it?
I have been in the mortgage business for 5 years now. I entered the industry because many of my close friends in the US were in the business and doing very well. Many of whom still run mortgage companies in Scottsdale Arizona, Royal Oak Michigan, and Virginia Beach. We flew down to visit my best man in Scottsdale last April to see how their mortgage company operated and take new ideas and concepts back to the Canadian marketplace.
Q.  Why do you think you've been able to achieve success?
My passion, tireless work ethic and excitement for what I do, has allowed me to become successful in the mortgage industry.
Q.  What do most mortgage brokers find the most challenging about starting in the business?
The challenge for most Agents when they start is trying to do it all by themselves. They need to link on to a mentor that is successful in the business who is willing to coach, motivate, and help them develop into the business person they have the potential to become.
Q.  What's your mortgage motto?
Our Motto is Experience.Growth.Together.  Our vision is: "By inspiring those we serve to "Experience. Growth. Together." through our Mortgage Centered Financial Planning (#MCFP) approach, we can challenge the status quo within the mortgage industry and empower others to bring about transformational change to Canadian consumers."
SUCCESS STORIES, HORROR STORIES, AND EVERYTHING IN-BETWEEN
Q.  Your biggest mortgage success story. Have you been able to save a client $$$ thousands?
I saved a client $50,000 over a 5 year term by reducing the penalty and structuring the mortgage differently then what their bank specialist had done. Needless to say I have been getting referrals from them ever since.
Q.  A mortgage horror story. Have you helped a client escape a horrific situation? Have you ever had a horror of a client?
I had a client going through a very hard divorce and her stress level was at an all-time high. I personally ended up calling the husband to implement a strategy that was suitable for the both of them. We were able to refinance the current house so that the husband could stay and have custody of the 2 kids (This way the kids would not have to change school districts). The refinance also provided cash out to settle the divorce and give my client enough funds for a 20% down payment on a new place to live close by. A very hard and not ideal situation left both of them at peace with the solution as their needs were met and kids didn't have to sacrifice.
Q.  What's your personal mortgage product? If you are living with a partner, how did you decide? Was it a battle?
My current mortgage is a 3 year fixed as my wife is more conservative than I am. I knew that the shorter terms save the most money a majority of the time. We compromised and this way we are still flexible in the near term (which I like) and she got a fixed rate which makes her happy 🙂
Q.  What's the biggest mortgage you've ever closed? What did you do with the commission?
$3.5M mortgage that helped furnish our new house in Toronto!
TELL US ABOUT YOUR 'BRAND' AND YOUR BUSINESS
Q.  How do you market your business and brand?
Media, newspapers, referral partners, family & friends, social media, database of past clients, Ratehub.ca J 
Q.  What's your favourite thing about Ratehub.ca? How does Ratehub.ca help your business?
Ratehub.ca has been a valuable tool in training some of our new team members. It teaches them objection handling and how to properly consult a new client. If they can learn how to build trust and a strong relationship with an online lead, then they will be more equipped to grow and help their clients in the future.
OK, BUT WHAT ELSE DO YOU LIKE TO DO?
Q.  When you take a break from helping clients, where can we find you?
Watching football, flying to a southern destination, at home with my beautiful wife!
Q.  Who's your ideal mortgage client?
Generation 'X' professionals. We can help them save money through the proper mortgage strategy and put together a financial plan through insurance and investment vehicles that will build wealth and allow them to accomplish their goals much sooner!
We'd like to thank Drew for his time and insight, you can find him at:
Website: www.SafebridgeFinancial.com
Twitter handle: @DrewCDonaldson