We caught up with Don Campbell, president of the Real Estate Investment Network (REIN), at the Property Show this past weekend and were lucky enough to score some great insight on the Canadian housing market.
Don is a very engaging speaker, and what he outlined at the Property Show during his session was so intuitive and simple, yet in opposition of the widely reported stance of the media as of late.
While the media has been reporting on an apparent Canadian housing bubble and potential future decline, or, at the far end of the spectrum, collapse, Don has a straightforward response to the naysayers. In fact, Don goes so far as to assert it will be 'Canada's Decade'.
What's Don's rationale? Here it is in a nutshell.
Positive GDP = job growth = immigration
Canada has positive GDP growth, which translates to job growth that will financially support existing residents as well as attract immigration. Political unrest and economic hardship in many parts of the world draws migration to a stable and growing economy like Canada. Plus, Don says new immigrants rent for a minimum of three years, benefiting today's real estate investors.
The Four F's: Food, Fertilizer, Fuel, and Forestry
Food. With Canada being a top food producer and global food prices increasing, we are set to service a growing market.
Fertilization. A key component of global food consumption is the ability to harvest it, which, yes, Canada supplies as well! We are an exporter of petrochemical plants, potash and natural gas.
Fuel. The growing instability in the Middle East has turned many top oil consumers, like our southern neighbours, to take a closer look at Canadian reserves, present from offshore Newfoundland to the oil sands of Alberta.
Forestry. This last point particularly struck a chord with the Property Show audience as Don pointed to a slide showing the recent earthquake devastation of Japan. A picture depicting miles of crumbled wooden structures shed light on the need to rebuild. Add China's rapid growth and building demand, and it is easy to see how Canadian forestry will be a beneficiary.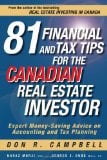 To learn more on Canadian real estate investing and how to navigate Canada's Decade, pick up one of Don's four best-selling books, which he graciously donates all profits to Habitat for Humanity.