You've just bought your first house: your mortgage is approved with the lowest mortgage rate available, your home inspection is done, the paperwork has been signed, and soon you'll take possession and move in.  However, your work isn't done just yet, as you'll need to ensure you have all the necessary furniture, accessories, and appliances you need.  Besides the standard things you might be considering purchasing – like a new bed, dining set, or living room couch – you also might need to purchase some big-ticket appliances, such as a fridge, washer, dryer or stove, as these items do not necessarily come with your new house.
Whether you're buying new or buying resale, it's important to talk to your realtor about your expectations when it comes to appliances or fixtures early on in the homebuying process, in order to determine what your inclusions are.
When buying a newly built home, standard model appliances are sometimes included by the builder – for instance, a range (stove/oven), range hood, dishwasher or fridge.  Other times, the buyer is expected to either supply their own appliances or pay extra for them.
When buying a resale home, some appliances and structures might be considered "fixtures", which means they usually stay with the home unless otherwise specified.
According to Toronto-based realtor Mark Savel, it's typical for most major appliances to be included when buying or selling a home in the city.  However, there is no hard and fast rule to determine what items stay with the home and what items the seller might take with them. "Properties are sold with no chattels," said Savel, "and it's up to the buyer and realtor to list exactly what they'd like included."

When you're doing a walkthrough of the property with your realtor, be sure to find out what items will be included in the sale: don't just assume what you see is what you'll be getting.  Sometimes a seller will say a fridge is included, but swap the high-end model in the home for a lower-end model before moving. And, although it's typical for a stove to stay with a house, a foodie who bought a top-of-the-line appliance just last year might want to take that item with them when they move. If you are a first time home buyer, or you didn't negotiate to keep your stove when you sold your home, that could end up being an expensive purchase.
The cost of buying appliances
New appliances can cost a few thousand dollars, so it's important to find out what you need to buy in-advance, so you can plan and budget for the extra expense.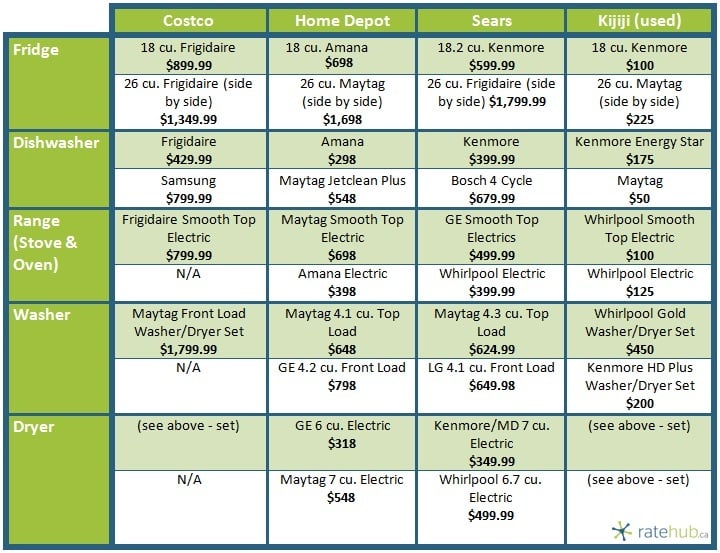 Depending on where you shop, the make and model, and the extra features you want, your new appliances could cost anywhere from a few hundred to a few thousand dollars each.
Standard appliances with no extra features are moderately priced, although the exact cost varies by manufacturer and retailer, as shown in the chart above.
If you're working with a limited budget, purchasing used appliances can be a great way to save money. A quick search through Kijiji or Craigslist for "washer and dryer" pulls up an array of results, as low as free (if you don't mind replacing a part or two) or as high as a like-new purchase.  Of course, when you buy any used item it's important to make sure it's in functioning condition before carting the item away, like plugging in the fridge to ensure it is running. The last thing you want is to be stuck with a broken appliance in your new home.
Have you ever bought or sold a house that didn't come with a major appliance?