Is it illegal to not shovel your sidewalk?
If you ever wanted to measure how well a community gets along, monitor how they shovel snow.
Some neighbours stop their snow shovel right at the hard edge of their property, while other neighbours shovel snow off the sidewalks of the 5 houses next to them. It's an interesting social experiment, but for the snow shovelling slackers, what does the law actually say?
Generally speaking, across Canada, there are bylaws in place forcing you to shovel your sidewalk, or you may face fines.
How cities shovel snow
In Toronto's municipal code book, "Steps, landings, walks, driveways, parking spaces, ramps and similar areas of a yard shall be cleared of snow and ice within 24 hours of snowfall to provide safe access and egress for persons and vehicles."
However, in Toronto's downtown core, where sidewalks cannot be plowed by a city service, you need to shovel snow off your sidewalk within 12 hours or face a $100 fine plus a $25 surcharge from the city.
In Montreal, Ottawa, Winnipeg, Halifax, and Moncton, to name a few, the city shovels the snow from your sidewalk for you.
In other major cities, it's on the residents to clear the snow.
Calgary requires snow to be cleared within 24 hours, or you'll receive a warning. If it's still not clear, the city will shovel the snow, and charge you accordingly for the services provided.
Edmontonians get 48 hours after a snowfall and a $100 fine if you don't shovel the snow, or $200 for a second offence. In fact, you may end up in court if you continually fail to shovel the snow.
Regina, has 24 hours  to shovel the snow in the downtown core, 48 hours elsewhere. If you don't shovel the snow, you'll be fined $100.
Saskatoon has to clear sidewalks within 48 hours, or if you're downtown, it needs to be done within 24 hours. If you don't do it, the city will shovel your snow, and add the charges to your property taxes.
Vancouver requires you to shovel snow by 10 am the morning after a heavy snowfall or you could face a fine of $200. If you own a business in Vancouver, you could face penalties of up to $2000.
Are you looking for the best home insurance rate?
In less than 5 minutes, you can compare multiple home insurance quotes from Canada's top providers for free. Comparing rates online could save you hundreds of dollars.
How Snow Shovel Bylaws work
Bylaw enforcement, however, is lax. Generally, you'll have to initiate a lack of snow shovelling complaint against your neighbour. In most municipalities, across Canada, you can do this by dialling 3-1-1.
Here is what happens after snow clearing bylaw complaint is registered:
A file is opened listing your concerns
A Municipal Enforcement Officer (MEO) investigates within four business days
The MEO either issues a warning notice with directions to fix the problem within a set time frame or issues the $100 fine immediately, depending on the circumstances
the officer may issue an order for the City to clear the snow and ice from the sidewalk and bill the property owner for the cost; and
the City may contact you to appear as a witness if the matter goes to court.
If no one complains, the likelihood of a behavioural change is slim. Do you risk complaining if, in a worst case scenario, you have to appear in court, staring face to face with that neighbour? Especially if you don't own the sidewalk in the first place? If you don't own it, and someone were to slip on the sidewalk adjacent to your property and injure themselves, what happens?
Is it illegal to shovel snow into the road? 
Yes, it's illegal. According to section 181 of the highway traffic act, it is an offence "to deposit snow or ice onto a highway." Anyone caught will be fined $115. It's also dangerous for drivers navigating through excess snow.
How snow shovelling affects your home insurance
When reviewing home insurance quotes, did you look at how much personal liability coverage you had? In Canada, liability coverage for house insurance ranges from $100,000 to $5,000,000. If someone injures themselves on the sidewalk in front of your house and opts to file a claim, the claim will be against the city, not you.
However, if you haven't shovelled the snow creating a safe path, free of slippery ice, to your home, and they slip on your steps and injure themselves on your front porch, the injured person can file a liability claim on your property insurance. Liability isn't the only coverage you need when it comes to snow clearing.
The importance of an Overland Water endorsement on your house insurance policy
Climate change brings extreme and fluctuating weather. One day, there's 30cm of snow, the next day, the temperature rises melting the snow which creates flooding. Floods are the most costly natural disasters in Canada concerning property damage. If you're not clearing the snow from the property around your home, it will melt and could seep into your foundation. If there are cracks in your foundation, it could get into your basement which the Insurance Bureau of Canada estimates will cost an average of $43,000 to repair.
I had a build up of snow on my roof. Due to a sudden thaw, preceded by record snowfalls, the mass amount of snow was melting fast. I didn't have proper eavestroughs installed, and the water ended up in my basement. I was outside trying to deal with the situation as quickly as I could. In the end, know that it's a reality, preparation is key.
I'm handy, so I was able to solve the issue and divert the water away quickly. But, if I couldn't solve the problem, I would've paid a lot of money out of pocket for renovations. Home insurance covers a burst pipe, but not water entering your home due to melting snow, unless you have an overland water add-on to your home insurance. Overland water protects water that comes into the home from freshwater sources such as an overflow of rivers, lakes, ponds or rain and snow accumulation.
How snow shovelling affects your car insurance
A person convicted of shovelling snow onto city streets is liable for a fine of up to $5,000 (Toronto Bylaw 719-5). The penalty is so high because that shovelled snow can be a dangerous road hazard. An accident on the road due to slipping on snow or ice can negatively affect your car insurance if you have to make a claim. You can report this anonymously with 311 as illegal dumping. It's handled by Toronto's Right of Way Management.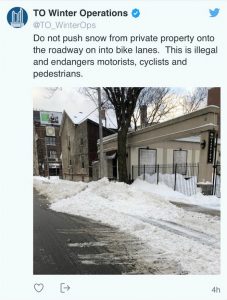 Remember to take extra time to clear the snow off your car's roof and windshields before driving and ensure you have winter tires on and give a little extra space between you and the car in front of you. Car accident claims go up during the winter months.
The Bottom Line
Be a good neighbour and while you're shovelling the snow off your sidewalk, clear your neighbours' sidewalk, too. A good community supports each other. Also, If you're on vacation, it's nice to rest easy knowing your neighbour will clear your sidewalk; reciprocity is a wonderful thing – bylaws, not so much.
ALSO READ