Condos Only Bright Spot in Calgary's 2018 Real Estate Market
Condos were the only bright spot in Calgary's 2018 real estate market, declining less in price than all other property types and, in some neighbourhoods, even experiencing an increase.
Condos for sale in Calgary softened 2.4 per cent to $251,500 in 2018 from the year before, compared to the market as a whole which slipped 3.4 per cent to $418,500, and to detached houses which fell 3.5 per cent to  $481,400.
In some neighbourhoods, like the North East and South East, apartment units even increased slightly, while detached housing prices fell in all neighbourhoods.
Prospective buyers are likely favouring condos because of new mortgage regulations put in place January 1, 2018. The federal bank regulator, OSFI, instituted a stress test and borrowers must now qualify at a mortgage rate 2 percentage points above their contract rate (which, at press time, could be as low as 3.27%: the current best mortgage rate in Alberta) or at the Bank of Canada rate, whichever higher, (now at 5.34 per cent). This likely reduced affordability for buyers and pushed them into less expensive forms of housing.
Calgary is also facing an unstable job market due to low energy prices, which potentially further reduced both affordability and demand. Mortgage rates in Alberta also increased over the course of 2018.
Another factor for the city's rough housing market last year is simply a glut of inventory — Calgary real estate listings are overshooting demand.
The Calgary Real Estate Board reports that there's about 5.2 months of inventory, meaning it would take that amount of time to completely sell off everything on the MLS. In comparison, Toronto has around 2.5 months.
Even so, buying conditions varied across the city and were hyperlocal.
The North West, for example, saw low competition for condos, with a sales-to-new listings ratio of 20.8 per cent, but extreme competition for detached houses, with a sales-to-new listings ratio of 120 per cent.
In the East, condos were in sellers' territory, with only four units listed for sale and three of them selling. Similarly, 10 detached homes were listed for sale but an incredible 19 sold.
The City Centre was balanced for both condos and detached houses, with neither sellers or buyers getting the upper hand.
Want more details? Check out the infographic below.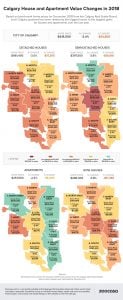 Zoocasa.com is a real estate company that combines online search tools and a full-service brokerage to empower Canadians to buy or sell their homes faster, easier and more successfully. Home buyers can browse homes across Canada on the website or the free iOS app.
Photo by Kyler Nixon on Unsplash