The Canadian housing market is rebounding from the chill cast on it from a series of new government regulations and tighter lending rules. Nevertheless, a slower market is likely temporary, as September Canadian Real Estate Association data shows almost all markets posted gains over the last five years.
The woeful Prairies
The only exception is the Prairies, whose unique economy depends on an inherently cyclical natural resource. Also, its housing industry far overbuilt during its last population boom. Property prices in Regina, Calgary, Edmonton, Regina and Saskatoon have all dropped over the last five years between 7.5 and 10%.
But beside that slice of the country, almost every market CREA tracks increased significantly over the last five years, even if prices are below the 2016 peak.
Cooling measures
Both the British Columbia and Ontario governments put in measures designed to cool the market in 2016 after cries from the public on the then-skyrocketing property prices.
Then, in 2018, the federal bank-regulator tightened lending rules ensuring that borrowers could afford a mortgage even if rates increased 2%. For the last two years uncertainty ruled the game — neither buyers or sellers were sure what to do. Because of the uncertainty prices largely stabilized, or even fell. Sellers essentially stopped listing their homes and prospective buyers paused before entering bidding wars. That situation is finally turning around. In fact, sales are up 15.5% this September year over year — and only 8% below their 2016 peak.
Really, real estate still trends up
Benchmark prices edged up 1.35% to $629,200. Yes, there was a dip. But, the slow and steady growth shows the housing market has exceeded all expectations over the last five years. Overall benchmark prices have risen 38.65% during that time, including the Prairie cities. Considering almost everyone keeps their home for more than a year, it's essential to examine long-term property statistics. Focusing only on year over year, you could miss these results.
Vancouver houses for sale, for example, sank 7.28% this September year over year. But, that statistic looks a lot better when put into context. Overall, home prices still grew 53.14% in five years, or over 10% annually. Similarly, The Fraser Valley experienced a short-term correction of 4.68 year over year, but jumped 77.09% in five years.
Ontario real estate has actually done well over the last 12 months as well as the last five years. Houses for sale in Ottawa posted the highest gains across CREA's benchmark cities, rising 9.61% to $431,700 year over year and 28.58% from September 2014. The Niagara Region saw incredible five year growth of 84.71% and 8.10% over the last year to $423,300. These smaller cities are likely capturing the overflow from Toronto (which rose 5.02% year over year and 57.02% over five years to $806,700).
Montreal and Moncton are also doing extremely well, with buyers flocking to these affordable regions. Montreal jumped 7.19% year over year, and 24.53% over five years to $371,200 while Moncton rose 5.76% and 23$ respectively to $190,700.
To see how other Canadian cities have fared this September, check out the infographic below: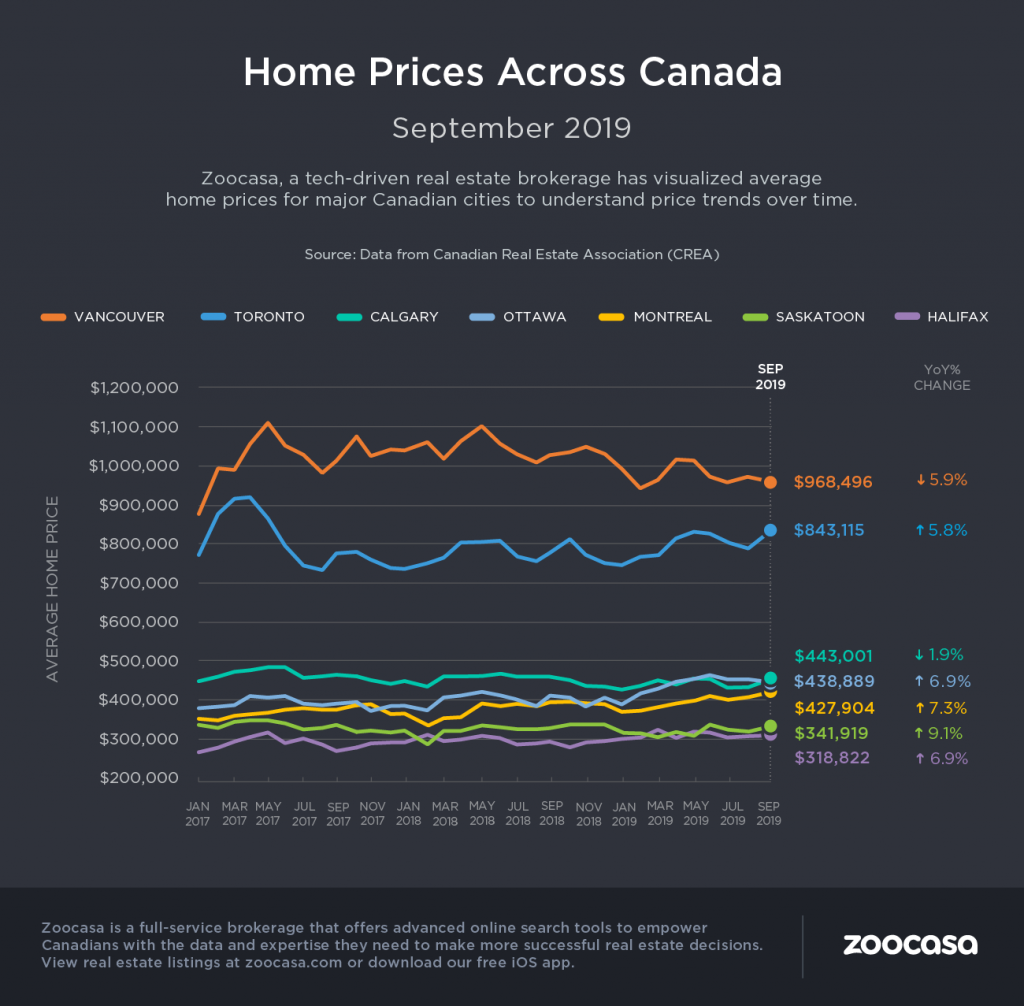 Zoocasa is a full-service brokerage that offers advanced online search tools to empower Canadians with the data and expertise they need to make more successful real estate decisions. View real estate listings at zoocasa.com or download our free iOS app