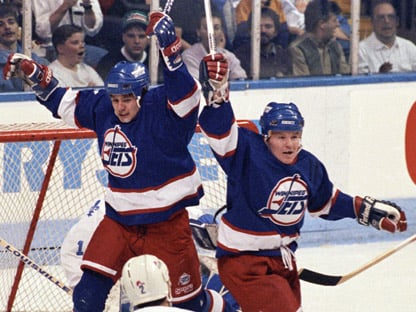 Residents of Manitoba rejoiced after learning that hockey would be returning to the prairie province.  On May 20th, 2011, a deal was finalized that would move the Atlanta Thrashers to Winnipeg.  It has been 15 years since the defunct "Jets" last played a game in Winnipeg Arena.
What does this mean for the players in Atlanta?  They will have to pack their bags (and bug spray) and move to Mosquito country.  There are currently 26 players on the active roster with an average salary of $2.1 million a year.  Which brings us to the question…
How much house can they afford in Winnipeg?
Using our Manitoba mortgage affordability calculator, we were able to determine the financial figures of what the average Winnipeg "NHLer" can afford in their new hometown.
The numbers:
We assumed our hockey hero pays $10,000/month to his credit card bills – after all, trophy wives don't come cheap!  We also assumed he has auto obligations of $10,000/month, because trophy wives don't ride in Honda Civics!
The mortgage calculator estimated the property tax and heating costs for us.
Based on a 20% down payment (even the wealthy want to avoid CMHC insurance!) and using the current lowest 5-year fixed rate in Manitoba of 3.61%; with an amortization period of 25 years…
The MAXIMUM AMOUNT he can afford is… $9,600,378
Breakdown
A full 20% down payment amounts to a cool $2,000,000.
Monthly mortgage payments:  $38,390
Land transfer tax:  $189,658
Interest paid over the life of the mortgage:  $7,143,145
Last year, the most expensive home listed in Winnipeg was $7.45M [1], so either Winnipeg`s new residents will be able to live the high life at a bargain price (of what they can afford), or we can expect a building boom.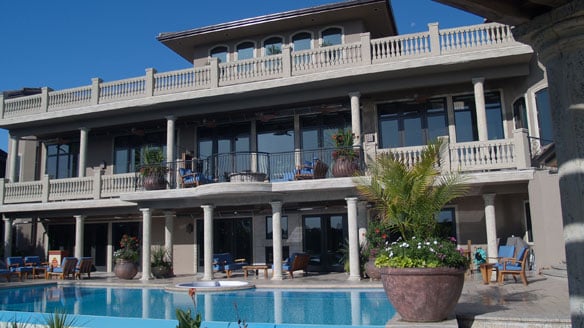 With the U.S. housing market still on life support, moving from Atlanta, Georgia to Winnipeg, Manitoba for the average homebuyer means paying more for a home. The average home in Winnipeg is $239,183 [2], that`s almost two and half times more than the median home price in Atlanta which is currently sitting in the neighborhood of $100,000 [3].

Winnipeg is Canada's 8th largest city with a population of 694,668 people, and with the NHL returning it looks like they can add at least 26 more.
[1] www.cbc.ca
[3] www.ajc.com