---
A couple of weeks ago, Ratehub.ca held a Small Business Book Giveaway contest where we gave away wonderful business books to our friends on Twitter and Facebook. And all that was required for entry was a business book suggestion.
Below, you will find the list of books that were suggested to us. Hopefully, this list will encourage you to put down that electronic device and dig into a good book (Unless of course you're using an e-reader or a tablet).
Book Title
Author (s)
Amazon Rating
Influence: The Psychology of Persuasion
Robert B. Cialdini
4.5 stars
Blink
Malcolm Gladwell
4.5 stars
The Tipping Point
Malcolm Gladwell
4.0 stars
Unmarkerting
Scott Stratten
4.0 stars
E-myth Revisted
Michael E. Gerber
4.5 stars
Good to Great
Jim Collins
4.5 stars
Thou Shall Prosper
Rabbi Daniel Lapin
5.0 stars
It's not how good you are, it's how good you want to be
Paul Arden
4.0 star
Blue Ocean Strategy
W.Chan Kim and Renee Mauborgne

 

4.5 stars
Market anything
Seth Godin
n/a
Crossing the Chasm
Geoffrey A. Moore
4.5 stars
The leader who had no title
Robin Sharma
4.5 stars
Pitch Anything
Oren Klaff
5.0 stars
Success Principles
Jack Canfield
4.5 stars
Made to Stick
Chip Heath & Dan Heath
4.5 stars
War of Art
Steven Pressfield
4.5 stars
Meditations
Marcus Aurelius
4.5 stars
Reminiscences of a Stock Operator
Edwin Lefevre
4.5 stars
48 Laws of Power
Robert Greene
4.0 stars
Alwaleed: Businessman, Billionaire, Prince
Riz Khan
n/a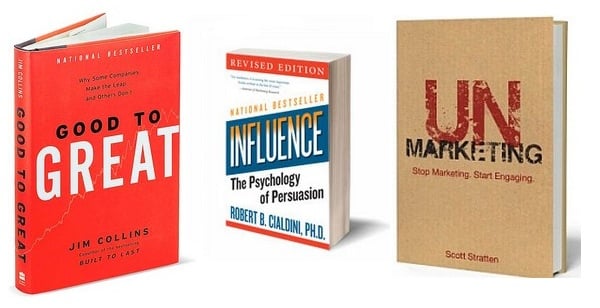 Don Campbell, author of "Real Estate Investing in Canada", which is the all-time best selling real estate book in Canada gave us a few choice selections:
The Life and Times of a Rolling Stone: Keith Richards' autobiography
The Myth of Multitasking – Dave Crenshaw
The EQ Edge – Steven Stein
Click here for a glimpse of the Secrets of the Canadian Real Estate Cycle according to Don Campbell as he reveals in his book.
---