Bank of Canada Interest Rate Announcement: October 25, 2011
Today, the Bank of Canada announced that the key interest rate shall remain at 1.0%.
The core inflation rate is at 2.2%, which is above the Bank of Canada's target of 2.0%[1]. Typically when inflation hits above target, most investors expect the Bank of Canada to eventually start hiking the overnight rate. However, we are in a different economic climate, where most of the world's financial super-powers are struggling, making a Bank of Canada interest rate hike more complicated. The resolve to stall rates as mentioned by economists such as Emanuella Enanajor of CIBC World Markets a few days ago said, "With the external risks still elevated, the BoC won't be moved to hike rates." C.D. Howe Institute's Monetary Policy Council (MPC), a financial advisory to policy makers, recommended that the Bank of Canada maintain its 1.0% overnight rate until April 2012, followed by an increase of 1.5% by October 2012.[2]
According to a survey by Reuters, most economists expect a rate hike to be delayed until the third quarter of 2012 due to wavering global economic landscapes, particularly in the U.S. and the European Union.[3]
Mortgage Rates
With the Bank of Canada interest rate remaining the same for the ninth consecutive time, we normally would expect variable rates to maintain their current course. However, anticipating the long-term stagnation in rates in an uneasy economic climate, lenders are reducing the discounts on variable rates in relation to the prime rate. This means that variable rates are moving in an upward direction even though market interest rates remain unchanged. This is uncommon but a reflection of the unpredictable market.
Overview
If you are considering a variable mortgage rate, now is the time to lock in before attractive discounts are no longer available. Use Ratehub.ca to compare mortgage rates in Canada to find the best discounted variable interest rate today.
Current Mortgage Rates
Discounted weekly 5-year fixed mortgage rates and 5-year variable mortgage rates over the past five years.
Discounted weekly 5-year fixed mortgage rates and 5-year variable mortgage rates from January 2011 to the present.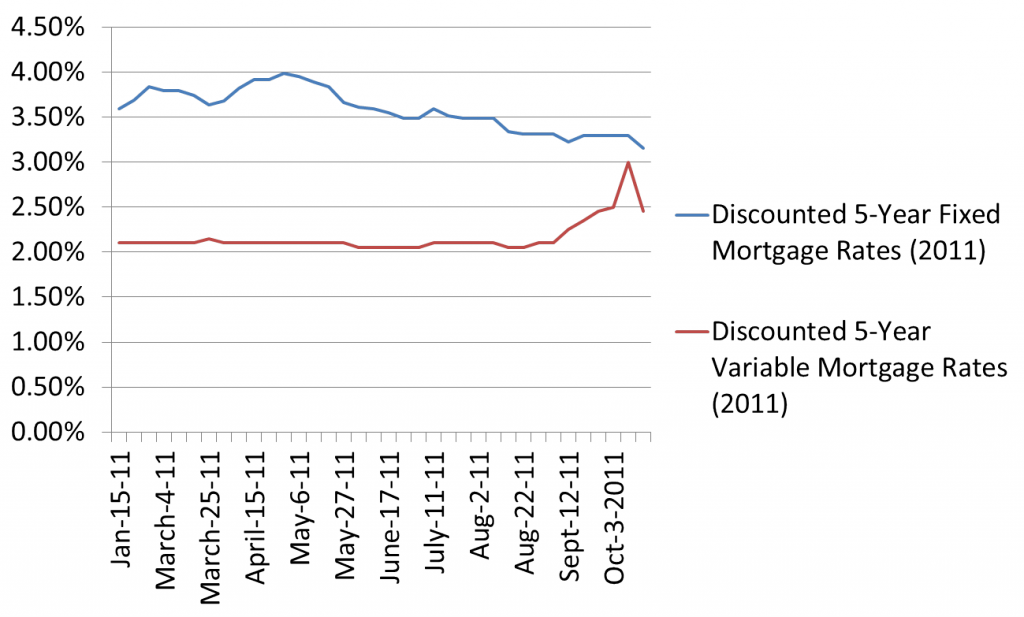 What mortgage products are Canadians buying?
Mortgage product popularity has remained fairly consistent over the past few weeks. 5-year variable mortgage rates and its fixed counterpart continue to be the most popular choice among Canadian consumers. However, we noticed 5-year variable open mortgages made a small appearance last week.
Note:  This is simply a small sample size and does not represent the entire market. It does, however, offer some useful insight.