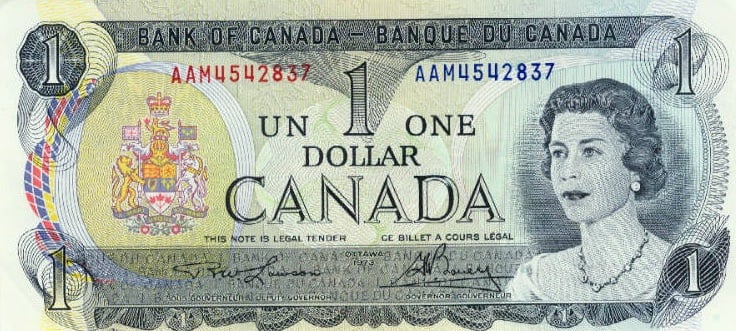 The Bank of Canada has announced that the key interest rate would remain unchanged at 1 per cent.  This rate is important because it directly influences the Prime Lending Rate and therefore, variable interest rates.
The target for the overnight rate remained at a record low of 0.25 per cent through most of the economic downturn. There hasn't been a Bank of Canada interest rate hike since September of last year.  Since then, the key interest rate has remained steady at 1 per cent, through six consecutive policy meetings.  Previous to that, the rate rose following three successive announcements in June, July, and September, in 2010.
Target for the overnight rate, recent data [1]
The Canadian Dollar rose up as high as $103.36 US, immediately after the rate decision was announced.
"Thirty-five of 43 forecasters surveyed by Reuters last week predicted the next rate hike would be in the third quarter, implying a move in either July or September, or both." – Financial Post
But for the first time since the recession it said it would eventually have to increase borrowing costs if economic growth continues.[2]
Although commodity prices have declined in recent weeks, they are expected to remain at elevated levels.  Stress from demand in major emerging-markets, contribute to broader global inflationary pressures.  The BoC said that U.S. economy continues to grow modestly, but is still limited by the consolidation of household balance sheets.  Foreclosures hit record highs in the U.S. last year.  Rising fears over the European debt crisis are still present, although growth in Europe is maintaining momentum.   Despite the challenges that weigh on the global outlook, financial conditions remain very stimulative.
Our economy grew at an annual rate of 3.9 per cent during the first quarter, citing increased household borrowing and spending as potential contributors to inflation.  The persistently high Canadian dollar could mitigate that, and put downward pressure on the economic recovery.[3]
Reflecting all of these factors, the Bank has decided to maintain the target for the overnight rate at 1 per cent.  The next scheduled Bank of Canada interest rate announcement is 19 July 2011.
Sources:
[1] Bank of Canada http://www.bankofcanada.ca/2011/05/press-releases/fad-press-release-2011-05-31/
[2] Financial Post http://business.financialpost.com/2011/05/31/bank-of-canada-keeps-rates-on-hold/
[3] CBC http://www.cbc.ca/news/business/story/2011/05/31/carney-rates-canada.html
Also read: